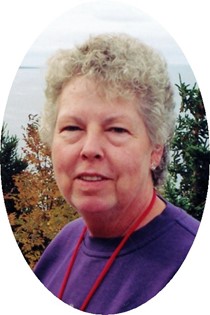 Connie Ann Hilyard
Dec 12, 1948 - Dec 7, 2014
Constance "Connie" Hilyard, 65, of Riverton, died at her home on Sunday, December 7, 2014. A memorial service will be held on Thursday, December 11, 2014, at 2:00 pm at Davis Funeral Home. Inurnment will be at a later date in Bozeman, MT.

Constance Ann Moran was born on December 12, 1948 in Bozeman, MT to Jack Edward and Mary Madonna (Murphy) Moran. She graduated with the class of 1967 from Riverton High School in Riverton, WY. She lived and raised her family in Riverton, WY until 10 years ago when she retired to Grand Junction, CO. She returned to Riverton, WY in September 2014.

She was baptized into the Catholic faith and attended both St. Margaret's Catholic Church and St. Stephen's Catholic Church.

She worked for over 30 years as an x-ray and lab technician for Indian Health Services.

She was involved in the Rivercity Singles Group in Grand Junction, Co, which was for 50 and single. She enjoyed being around people and visiting.

Her family said that she loved being a mother and grandmother, spending time with her grandchildren, crocheting for her grandchildren and reading to them. She LOVED Chocolate and Coke!

She is survived by her children, Eric (Kasey) Hilyard of Princeville, HI, Paul Hilyard of Riverton, WY and Ryan Hilyard of Riverton, WY; her grandchildren, Brody, Tyler, Sydney, Karsten, Mason, and Kaleb; her brothers, Don (Debbie) Moran, Mike (Barbara) France, and Jim (Carla) France; her sisters, Debbie Norway, Diane (Steve) Moran, and Jackie Moran-Standridge; her step-father, Robert France; and her two best friends, Mary Diamond of Grand Junction, CO and Rose Apadaca of Riverton, WY.

She was preceded in death by her father, Jack Edward Moran; her mother, Mary Madonna France; and her brother, Richard Lee France.

On-line condolences may be made to the family at www.TheDavisFuneralHome.com

Memorials may be made to the Friends of Hospice (Frontier Hospice) in care of the Davis Funeral Home, 2203 W. Main Street, Riverton, WY 82501.

Services are under the direction of the Davis Funeral Home.