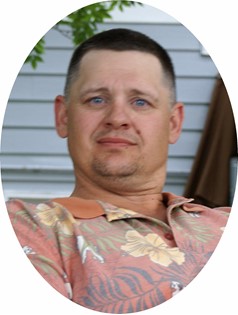 Tony Kenyon
Jul 31, 1974 - Dec 5, 2014
Anthony "Tony" Kenyon 40, of Riverton, died on Friday, December 5, 2014, in Bismarck, North Dakota at the St. Alexius Medical Center. A memorial service will be held on Saturday, December 20, 2014, at 10:00 am at Davis Funeral Home with a reception to follow at the Riverton Country Club at 11:00 a.m.

Anthony Grant Kenyon was born in Riverton, WY on July 31, 1974 to Toby Lyle and Linda Louise (Norris) Kenyon. He was one of three children and was raised in Riverton. He graduated from Riverton High School with the class of 1992.

On April 28, 2001, he married Rebecca "Becky" Lynn Mayes in Riverton, WY. They made their home in Riverton with their daughters, Tosha and Tessa.

At the time of his death he was working for Newpark Drilling Fluids as a Mud Engineer. He had been with them since 2001.

His family said that his passion was golf. He also enjoyed hunting of all types, fishing and watching any sports especially the Chicago Bears and the Colorado Rockies. He loved spending time with his family.

He is survived by his wife, Becky Kenyon of Riverton; his daughters, Tosha and Tessa Kenyon of Riverton; his parents, Toby and Linda Kenyon; his mother-in-law, Amy Mayes of Riverton; his brother Tim Kenyon and his wife, Vickie of Riverton; his sister, Tammy Curtis and her husband, Kenny of Rock Springs; his brother-in-law, Jon Mayes and his wife Alison of Riverton; his sister-in-law, Kathy Lewis and her husband Daryle of Minden, NV; nieces and nephews, Mackenzie and Kayson Mayes, Camden Curtis, Abby, Evan, and Erin Lewis; grandmother, Edna Norris of Arizona; and honorary uncle, Harold Befus of Riverton;

He was preceded in death by his daughter, Talley Kenyon in 2004; grandparents, Jake and Roberta Jacobs, Donald Norris, Sr.; and father-in-law, Doyal Mayes in 1996.

On-line condolences may be made to the family at www.TheDavisFuneralHome.com

Memorials may be made to Tony's Daughters Education Fund in care of the Davis Funeral Home, 2203 W. Main Street, Riverton, WY 82501.

Services are under the direction of the Davis Funeral Home.