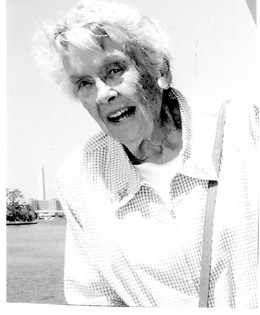 Marjorie Hart
Jun 17, 1923 - Dec 5, 2014

Marjorie W. Hart, 91, of Riverton, died on Friday, December 5, 2014, at the Kindred Healthcare and Rehabilitation – Wind River following a long illness.

The widow of Floyd Hart lived in Riverton, WY since moving here in 1958 as a Junior High School teacher for School District 25. The Harts retired in 1979, maintaining their home in Riverton, but spending their winters in Arizona City, AZ.

The fourth child of Marion (Bell) and Charles Cleveland Wilhelm, she was born on June 17, 1923 in Billings, MT, grew up and was educated in Washburn, WI, as were her brothers and sisters. Following two years at Superior State College, (now the University of Wisconsin-Superior), she enlisted in the Women's Army Corps, where she served two years in the Signal Intelligence Service including overseas service at General MacArthur's Headquarters in New Guinea and the Philippines. Further education included a B.S. degree in education from the University of Minnesota1947; a M.A. in the teaching of history from Teacher's College, Columbia, 1953, and summer school to become a librarian from Denver University, San Jose State, and Utah University. In 1955-56, she had a year's independent study awarded by the Fund for Advancement of Education of the Ford Foundation. In 1960, she as a Coe Fellow in American Studies at the University of Wyoming.

Mrs. Hart Began teaching in Wyoming at Natrona County High School in 1950, after two and one-half years at Wausau, Wisconsin High School. In Casper she became department chairman for history and social studies, was president of the Casper-Midwest Teachers Association, and served on the committee that originated the classes for high academic potential and advanced placement.

On June 9, 1958, she and Floyd Hart were married at the First Congregational Church in Lusk, WY and moved to Riverton, WY.

As a teacher in Riverton Junior High, Mrs. Hart taught social studies, developed and advised the student council and later became the librarian in the expanded library-media center. She worked with the Wyoming State Student Council program at Trail Lake and served on North Central Association Evaluation committees. In professional organizations, she belonged to the American Library Association, was a life member of the National Educational Association, and a member of National Council for the Social Studies, for which she served on many state and national commissions. In Riverton, she was a member and one time president of the Riverton Education, a member of the Riverton Federal Credit Association Board of Directors, and a member of Eta Chapter of Delta Kappa Gamma, serving one term as president. In 1966 she was selected as Riverton Teacher of the year.

Mrs. Hart was an avid (but not good) golfer, a charter member of the Riverton Country Club's Women's Golf Association of which was president 1978-79. She enjoyed books, politics, cooking and bridge.

Survivors include her step-daughter and friend Marlys Reddon and her husband Jim, whose children are Colleen (Kevin) Reddon-Forbis and her children, Eric, Troy, and Shaun Udell; Jay Reddon (Jill) Reddon and their children, Meagan and John, all of Riverton; two great great grandchildren, and many nieces and nephews.

She was preceded in death by her beloved husband, her parents, and her older brother, John: her brother, Charles B Wilhelm of Cockeysville, MD; and her sisters, Ruth W. Lindley of Jeffersonville, IN and Wilson, WY, and Marion Bell Wilhelm of Washington, DC.

Memorials may be made to the Marjorie and Floyd Hart Scholarship College of Health Sciences University Wyoming Foundation in care of the Davis Funeral Home, 2203 W. Main Street, Riverton, WY 82501.