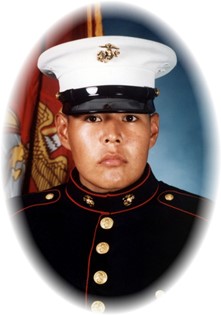 Leon Behan
Nov 25, 1979 - Dec 14, 2014





Leon C. Behan, 35, of St. Stephens, died on Sunday, December 14, 2014, at the Wyoming Medical Center in Casper. A rosary will be held on Thursday, December 18, 2014, at 7:00 pm at Great Plains Hall, the wake will follow at Great Plains Hall. A funeral mass will be on Friday, December 19, 2014, at 10:00 am with Father Phil Wagner officiating. Burial will follow at the Headley Family Cemetery.

Leon Christopher Behan was born on November 25, 1979 in Riverton to Virgil James Behan, Sr. and Janet Rose (Headley) Behan. He was raised in the Riverton area until he was in 6th grade when he moved to Thermopolis. He graduated high school from Hot Springs County High School with the class of 1988.

He was baptized into the Catholic Faith.

He joined the United States Marines right after he graduated and served four years. He served in both the Gulf War and in Afghanistan. He was honorably discharged and returned to the Riverton area.

He worked at the Wind River Casino for a time before he started his career with the Volunteers of America at the Center of Hope as a health technician. He had been there for five years before his death.

His family said he loved going to the casino and working with people helping them through the tough times.

He is survived by his companion, Wendy C'Hair; his sons, Leon Behan, Jr. and Shaun Jordon Behan; his daughters, Madison Behan and Alexis Behan; his stepdaughter, Misty Richards; his father, Virgil Behan; his brothers, Virgil Behan, Jr. and Joe Jordon Behan; and his sisters, Liz Hodge, Judy (Walter) Tidzump, Yolanda Behan, Joanne Duran, and Deon Duran.

He was preceded in death by his mother, Janet Behan; his grandparents, Joseph and Gloria Headley; and his adopted brothers, Gerald M. Bonds, and James Burning Breast.

On-line condolences may be made to the family at www.TheDavisFuneralHome.com

Services are under the direction of the Davis Funeral Home.