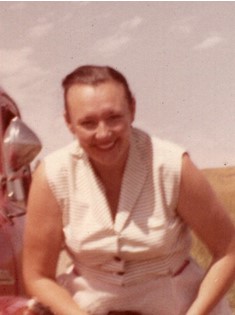 Irene P. Strock
May 4, 1924 - Feb 21, 2008
Irene P. Strock of Kinnear, died Thursday, Feb. 21, 2008, at Morning Star Care Center in Fort Washakie. She was 83 years old.

At her request, no services will be held.

Irene Patchen was born on May 4, 1924, in Casper, the daughter of Lawrence Patchen and Sarah (Parker) Patchen.

She married Charles O. Strock in Casper on Dec. 8, 1955.

She was a life-time rancher and had lived in Fremont County for 29 years.

Mrs. Strock was a member of the Methodist faith and her family said she enjoyed fishing, cooking, her animals, and being with her family.

Survivors include a son, Raymond Lord and his wife, Sandy, of Arizona; daughters, Linda Strock and her companion Kenny Whitt of Kinnear and Laura Tidzump and her husband, Dion of Pavillion; seven grandchildren, Jeff and his wife LaDeane, Liz and husband Tony, Cole and wife Tanya, Sierra, Dionne, Joe, and Sharon; six great grandchildren; a brother, Lawrence Patchen; a sister, Kathrine Pike.

She was preceded in death by her husband, Charles Strock; a daughter, Marsha Blohm, and two sisters, Delma and Lena, and her parents.

Memorials may be made to Little Wind Hospice, in care of the Davis Funeral Home, 2203 West Main Street, Riverton WY 82501.

On-line obituaries are available and condolences for the family may be made at: thedavisfuneralhome.com

Services are under the direction of the Davis Funeral Home of Riverton.