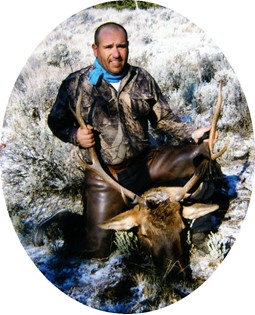 Chico Martinez
Feb 18, 1960 - Dec 28, 2014
Eulalio Jack "Chico" Martinez, 54, of Riverton died Sunday, December 28, 2014 at the Wyoming Medical Center in Casper. Funeral services will be 10:00 a.m., Saturday, January 3, 2015 at St. Margaret's Gym with fireman funeral honors by the Riverton Fire Department. A reception will follow the service at the Riverton Elk's Lodge.

Eulalio Jack Martinez was born, February 18, 1960 in Riverton to Lee Martinez and Joyce Raymond. He was raised in Riverton attending Riverton and Wind River High Schools. He also attended truck driving school and Ansul Fire School.

Chico was a member of the Rocky Mountain Elk's Foundation and the Riverton Fire Department.

His family said he enjoyed hunting, fishing, spending time with his family, photography, was an avid Steelers football fan, and enjoyed being a part of the Riverton Fire Department.

He married Angela Lynn Horton on February 14, 1994 in Las Vegas, Nevada

He is survived by his wife Angie of Riverton; two sons, Eulalio Jack Martinez, Jr. and his wife Kristin, Patrick Martinez; two daughters, Sharon Bryant and her husband Sam, Whitney Martinez; grandchildren, Jade and Allie Martinez, Triston Martinez, Tanner Apodaca, and Talisa Apodaca; parents, Lee and Pam Martinez, Joyce and Chuck Sherd, James and Terry Horton; brothers, Deano Martinez, John Martinez and wife Krystal, Troy Martinez and wife Becki; Brett Johnson and wife Karen, and Bryan Johnson; sister, Laurie Wood and husband Shane; numerous nieces and nephews.

He is preceded in death by his grandparents, Jack and Dorthy Raymond; Eulalio and Mary Martinez; sister-in-law, Laurie Martinez; niece, Kahla Martinez; and nephew Kota Martinez.

Memorials may be made to the Martinez family in care of the Davis Funeral Home, 2203 W. Main Street, Riverton, WY 82501.

On-line condolences for the family may be made at theDavisFuneralHome.com.

Services are under the direction of the Davis Funeral Home.