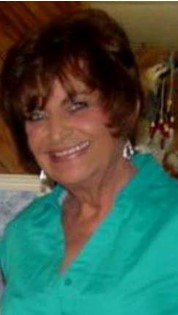 Jackie Lane
Jan 31, 1951 - Dec 31, 2014
Jackie Lane, 63, was called home to heaven December 31, 2014. She was a beautiful, wonderful wife, loving mother, grandmother, and great grandmother.

A funeral service will be held on Wednesday, January 7, 2015, at 2:00 pm at Davis Funeral Home with Echo Klaproth officiating. Burial will follow at Mountain View Cemetery.

Jacqueline Irene Penney was born on January 31, 1951 in Checotah OK to Herbert Samuel and Irene (Mendenhall) Penney. She attended school in Tolleson, AZ, graduating from Union High School in 1968. She attended Central AZ College for two years and after moving to Riverton in 1979, finished her Accounting Degree from Central Wyoming College.

On February 3, 1968 she married Kenneth Lane in Tolleson, AZ. They raised two sons together.

She was of the Pentecostal faith and was a devout Christian. She spent the last several years of her life sharing the faith through Facebook and emails.

She was the Riverton High School Rodeo secretary for four years and the secretary for the Riverton Night Rodeos for two years.

She worked for Realty Brokers for three years before opening her own business, JL Bookkeeping.

She loved knitting, crocheting, needlework, being on the computer and gardening. She was always helping organize dinners and donations for people who needed help or for fundraisers.

She is survived by her husband of 46 years, Kenny; her sons, Shawn T. (April) Lane of South Dakota and Christopher L. (Kellie) Lane of Crowheart; her five grandchildren, Brandon (Kayleigh) Lane, Jake Lane, Heaven Leigh Lane, Chelsie Lane, and Colten (Danen) Lane; her four great grandchildren, Kabella, Keiana, Brielle, and Bexlee; and her brother, Matt Penny of Phoenix, AZ.

She was preceded in death by her parents, Herbert and Irene Penney; her brother, Steve Penney; an infant sister; and her in-laws, Chuck and Carolyn Lane.

Memorials may be made to the Alzheimer's Research in care of the Davis Funeral Home, 2203 W. Main Street, Riverton, WY 82501.

Services are under the direction of the Davis Funeral Home.