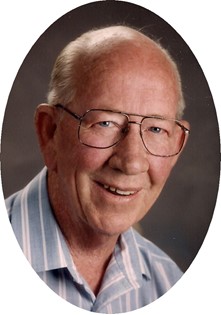 Verlen Lange
Sep 20, 1924 - Feb 3, 2015
Verlen "Rosebud" Lange, 90, of Riverton, died at his home on Tuesday, February 3, 2015. A funeral service will be held on Saturday, February 7, 2015, at Davis Funeral Home at 1:00 pm. Pastor Cleve McSwain will officiate. Burial will follow at Mountain View Cemetery.

Verlen Robert Lange was born on September 20, 1924 in Custer County, NE near Calloway, NE. He was born at home to Theodore Niels and Ethel (Hendricks) Lange. He grew up and attended schools in NE.

On July 23, 1946 he married Anna Marvine Ray in Sapulpa, OK. They spent 48 years together before Anna's passing in 1994. Together they had three children, Bob, Vana, and Lora. They lived in numerous states before moving to Riverton in 1966 where he lived the rest of his life.

He worked for Gilpatrick Construction, Federal American Partners, and many other companies over the years.

He was a life time member of the Good Sam Club.

He enjoyed camping, playing guitar and banjo, and attending music concerts as a family.

He is survived by his son, Bob Lange and his wife, Martha of Riverton; his daughters, Vana Lange of Cheyenne and Lora Witt and her husband, David of Riverton; his grandchildren, Chris Lange of Cheyenne, Mike Lange and his wife Christine of Laramie, and Latosha Robbins and her husband, Rich of Douglas; his great grandchildren, Kaeleigh Lange, Rylan Lange, and Haley Robbins; his sisters, Verva Liner of NE, Verna Leonard of NE, and Harriett Wentworth of Tulsa, OK; and his sister-in-law, Irva Lange of Riverton.

He was preceded in death by his parents, Theodore and Ethel Lange; his wife, Marvine Lange; and his brothers, Ivan Lange, Orval Lange, Harold Lange, and his sister-in-law, Pauline Lange.

The family requests in lieu of flowers, donations be made to Homestead Assisted Living Activities Department, 950 Homestead Ave. Riverton, WY 82501. Or a charity of the donor's choice.

On-line condolences may be made to the family at www.TheDavisFuneralHome.com

Services are under the direction of the Davis Funeral Home.