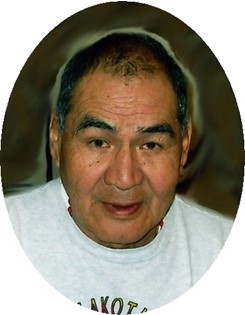 Francis Washington
Feb 11, 2015 - Feb 11, 2015




Francis J. Washington, 65, of Arapahoe, WY died on Friday, February 6, 2015. A rosary and wake will be held on Thursday, February 12, 2015, at 7:00 pm at Great Plains Hall. The funeral service will be held on Friday, February 13, 2015 at St. Stephen's Catholic Church at 10:00 am. Father Phil Wagner will officiate. Burial will follow at Bushyhead Cemetery.

Francis James Washington was born on June 26, 1949 to Otto Washington Sr. and Mary Agnes (Bell) Washington. He lived at the Crow Agency and Arapahoe area. He attended schools at St. Stephen's, Pierre, and Flandreau, SD.

He was baptized into the Catholic faith and also was a member of the Native American Church.

He worked as a cowboy at the Arapaho Ranch, a fire fighter with the ShoRap and as a care taker for family members. His family said that he enjoyed hunting, fishing, and was very close to his grandchildren and great grand children.

He is survived by his brothers, William Washington, Isaac Washington, Sr., Paul Bell, Sr., and Terry Antelope; his sisters, Deloris Take Enemy, Agnes (John) Doyle, Irene (Joe) Crazy Thunder, and Sara (Jim) Littleshield; his aunt, Patsy Dodge; his stepchildren, Mitchell Stacey, James Gardner, Sr., Marcus Gardner, Sr., and Serena Gardner; his grandchildren, Selesia Stacy, Michelle Stacey, Latasha Stacey, Marlise Stacey, Anna Stacey, Danay Stacey, James "Hoonin" Gardner, Jr., Autumn Behan, McClain Gardner, Angie Gardner, Shanoan Gardner, Tashalia Nez, Sonay Brown, Aspen Bell, Shawn Gardner, Marcinda Gardner, Macus "George" Gardner, Jr., Tristen Gardner, and Maurice "Moe" Gardner; and great grandchildren, Seraka Gardner, Aleca Gardner, Jamie Gardner, Baby "hoonin" Gardner, Makia and McKale Gardner, Crislyn Gardner, Seona Enos, Ayaina Spoonhunter, Tay-Tay Spoonhunter, Chole McAdams, Lexi Ogle, Tiana, Bethiney, Nathan, Payton, Ki-Ki, Lillie, Maurice "Moe", Tristen,Clifford, Latawni, LaShanti, Terrance Yellowplume, Jr., Keni Bronco, and James Spoonhunter; and the extended families of Bell, Addison, Means, Dodge, Spoonhunter, Gardner, C'Hair, Posey, SunRhodes and Friday.

He was preceded in death by his wife, Margaret Washington; his parents, Otto and Mary Washington; the parents that raised him, Lydia and Dan Friday; his brothers, Vincent Washington, Otto Washington, Jr., and Michael Washington; and his grandparents, Isaac and Agnes Bell and Anthony and Bridget Iron.

On-line condolences may be made to the family at www.thedavisfuneralhome.com.

Services under the direction of Davis Funeral Home.