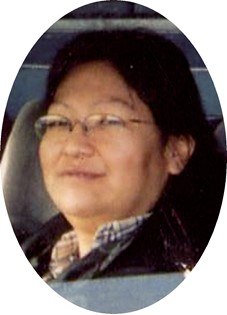 Donna Ani (Potter)
Oct 13, 1964 - Mar 10, 2015
Donna Ani, 50, of St. Stephens, died at the Morning Star Manor on Tuesday, March 10, 2015. A rosary will be held on Friday, March 13, 2015, at 7:00 pm. A wake will follow at 1247 17 Mile Road. The funeral service will be on Saturday, March 14, 2015, at Great Plains Hall starting at 10:00am. Burial will follow at Arapaho Catholic Cemetery.

Donna Kay Potter was born on October 13, 1964 in Riverton, WY to Charles Ernest Potter and Beatrice Mae Buckman. The first part of her life she grew up in Billings, MT, then she moved to the Wind River Reservation. She attended Mill Creek School and Wyoming Indian High School. After high school she moved to Los Angeles, CA where she resided for many years.

She was of the Catholic Faith.

On September 16, 1999 she married John Kalani Ani.

She moved back to the Wind River Reservation three years ago. She worked as a cashier for various companies including the Wind River Casino.

Her family said she loved spending time with her kids and grandkids, having barbeques, going to the lake, shopping, the casino, and watching moves.

She is survived by her loving husband, John "Kalani" Ani; her mother, Beatrice Buckman; her uncle Dad Harold Smith; her sons, Cordell Charles Potter, John Kalani Ani-Potter, and Kimo Gus Ani; her daughters, Stacia Rae Potter and Bre Nanilei Ani; her brother, C.J. Potter; her sisters, Rose Potter and Ginger Potter; her 11 grandchildren; and numerous family members, aunts, uncles, nieces, nephews, brothers, sisters, and cousins.

She is preceded in death by grandmas, Laura Buckman and Ethel Potter; grandpas, John Buckman and Charley Potter; father, Charles "Chuck" Potter; brothers, Lorry Gus Potter, Walter Brown, Clark Trumbull, III, David "Chick" Spoonhunter, Dwight "Moory" SunRhodes, Levi Trumbull, Corey SunRhodes, and Dudley C'Bearing; sisters, Sandra Tillman, Claudean Trumbull, Karen Trumbull, Cindy St. Clair, and Eugena Bearing; aunts, Phyliss Tillman, Rosie Bearing, Mollie Trumbull, Angeline Spoonhunter,Betty Ann Addison, and Charlotte DeCoteau; uncles, Eddie Buckman, Alfred Buckman, George Buckman, Teddy Washington, Dennis Bearing, Clark Trumbull Jr., and Herman DeCoteau; nieces, Chyna Wallowingbull, and Karen Trumbull; and nephews, Saul SunRhodes, Chili Antelope, Benson Bearing, Jr, Nohnda Tillman, and Willis Shavehead. On-line condolences may be made to the family at www.TheDavisFuneralHome.com.

Services under the direction of Davis Funeral Home.