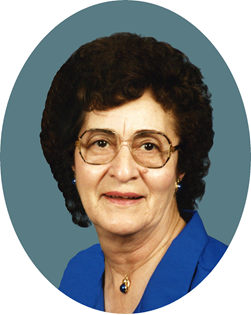 Viola Vigil
Mar 13, 1928 - Mar 19, 2015
Viola Vigil, 87, of Riverton died on Thursday, March 19, 2015, at Kindred Health Care- Wind River. A rosary will be held on Monday, March 23, 2015 at 7:00 pm at St, Margaret's Catholic Church. The funeral service will be on Tuesday, March 24, 2015 at 10:00 am at St. Margaret's Catholic Church. Burial will follow at Mountain View Cemetery.

Viola Marie Trujillo was born on March 13, 1928 in Mora, New Mexico to Gomiciendo and Anita (Valdez) Trujillo. She was one of eleven children. When she was eight years old she was adopted by Carlos and Hilaria Apodaca. In 1941 she moved to Riverton, WY with her adopted family.

She was of the Catholic faith and was a member of St. Margaret's Catholic Church. In her younger years, she was a member of the R.C.C.W. and was very active in the church helping cooking, cleaning, and baking for dinners. She was very active until her health made her slow down.

In 1970 she married Jose Garcia Vigil at St. Margaret's Catholic Church in Riverton, WY.

She was a homemaker and cleaned houses for a number of people over the years until she retired.

She enjoyed embroidering, tending to her flowers in the yard, and cooking.

She is survived by her brothers, David (Cindy) Apodaca, Tony (Alice) Trujillo, Fred (Carmen) Trujillo, and Joe (Mary Louise) Trujillo; her niece Ruth (John) Martinez; and numerous nieces and nephews.

She was preceded in death by her parents, Gomiciendo and Anita Trujillo; her husband, Jose Garcia Vigil; her brothers, Lawrence Trujillo, William Apodaca, Rudy Apodaca, Max Apodaca, and Alfred Apodaca; her sisters, Celina Vigil, Dahlia Herrera and Adrefufio Apodaca; her adopted parents, Mr. and Mrs. Carlos Apodaca.

On-line condolences may be made to the family at www.TheDavisFuneralHome.com.

Memorials may be made to St. Margaret's Catholic Church or The Tough Enough Cancer Fund in care of Davis Funeral Home, 2203 West Main Street, Riverton, WY 82501.

Services under the direction of Davis Funeral Home.