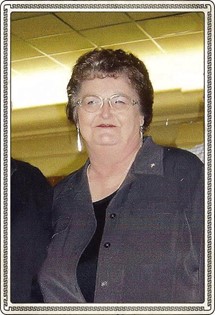 Joyce Wilson-Barrows
Jun 4, 1940 - Apr 13, 2015
Joyce Elaine Wilson Barrows passed away on Monday April 13, 2015. Cremation has taken place through the Davis funeral home in Riverton WY. And as Joyce's wishes a Celebration of Life will be held at the Riverton Elks Lodge on Saturday April 18, 2015 at 1:30pm. Please join us for stories and memories of her life & family.

Joyce was born June 4, 1940 in Holdrege, Nebraska to David H. 'Jeff' & Lois I. (Snodgrass) Wilson of Wheatland WY. She was raised on her Grandmother Wilson's ranch north of Wheatland WY., later moving to Guernsey WY. And onto Holdrege Nebraska in 1954 where she attended school.

Joyce was the eldest of 9 children including six brother's and 3 sisters. Joyce saw many tough times in her life, almost dying of pneumonia at the early age of 5 and was a cancer survivor in 1986.

In her early yrs. She shared a 160 acre farm in Nebraska with her first husband, they later divorced. She owned her own Quarter horses, belonged to the National Rifle Association and was the recipient of many medals as a Sharpshooter. She was very proud of her Grandfathers gun collection and he held one of the most historically valuable collections in the state of Neb.

She move to Boulder WY. With her family at an early age and made their home there. While there, she worked at the Patio Grill and Tibbles Ranch. She belonged to the Wheatland, Holdrege and Riveron 4-H Clubs and won the WY. State 4-H Photography Leadership Award of 1979. Joyce also worked for Fremont County for 7yrs., Security Guard at Bonsell Motors, Floor Mgr. Of Quality Outlet\Children's Shop owned by Bill & Colleen Whimpenny, Riverton Senior Center and the Fremont Family Practice Med. Clinic.

She married the love of her life Andrew 'Rooney' Barrows and they shared 41 yrs. Together until his passing on Christmas Day 2005. They made their home in Riverton WY. Raising 3 children. Their first home was purchased in 1966 from Mr & Mrs. Preston Skaggs and they shared their lives and memories there until her death.

Joyce loved Big Game Hunting, Fishing, Camping, her Flower gardens, was an avid Bird Watcher and many other hobbies. She was of a Christian Faith, loved the outdoors & wished more people would take time to enjoy it and the life God surrounded us with. She loved her dogs, parakeets, fish and made & shared many memories with them. One of her biggest prides was pet sitting for her many 4-legged grandchildren (including Paisley, Phoebe, Moose, Cheeto and many many more).

Survivors include daughters L. Elaine Mitchell (Rick), Pamela S. Cowling (Kevin) and son David M. Barrows (Erin) all of Riverton. She held a dear place in her heart for her Stepson W.R. 'Butch' Barrows of Arapahoe WY. Siblings: Wendy S Dilts (Bob) of Riverton, Randy Wilson of Gillette WY. And Tyler K. Wilson of Boulder WY. And her brother in-law Ed Alexander of Riverton. Grandchildren: Mike Mitchell (Shawna), Amy D. Ehlman (Mark) of Wyoming, Leroy 'Scooty' Barrows of Riverton, Brittany Williams McBride (Matt) of Catlettsburg KY. Joshua Williams of Cochran GA., James Barrows, and adopted granddaughter Blair Downey of Shoshoni WY. Her many dear friends & neighbors Janice Anderson, friend & Sister in-law Marie Barrows of Branson MO. Sister in-law Bonnie Burns (Don) of Lander WY., Nellie Barrows of Hudson WY. And many many others. She is survived by two Great Grandchildren and many nieces & nephews who she loved dearly.

She was Preceded in death by her husband 'Rooney' Barrows, Parents Jeff & Lois Wilson, Both of their Grandparents, her husbands parents, Brothers Roy, Mike, David & Richard Wilson, her sister Dianna K. Alexander. And 2 grandsons Christopher & Jonothon Williams.

Condolences may be sent to the family in care of the Davis Funeral Home Riverton WY.

Donations suggested to the National Rifle Association, Wyoming Hunter Safety or donors choice.