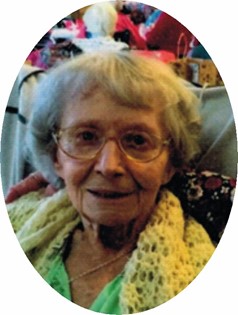 Mildred "Millie" Scripp
Apr 26, 1921 - Apr 29, 2015
A Funeral Mass for Mildred "Millie S. Scripp, 94, will be held 10:00 a.m., Monday, May 4, 2015 at the Holy Rosary Catholic Church with Father Dave Erickson officiating. Interment will follow at Mount Hope Cemetery. A Rosary will be recited 5:00 p.m., Sunday, May 3rd at the Holy Rosary Catholic Church. In lieu of flowers, donations may be sent to Westward Heights or the choice of the donor in care of Davis Funeral Home.

Millie passed away April 29, 1921 at Westward Heights Care Center in Lander, WY. "Millie" as she was known to the employees at the Care Center and her many friends, had great stories about her life and experiences – all interesting and some hilarious. She was always there for the employees, residents, and friends saying prayers for those who were in need of prayers and guidance.

Millie was born in Chicago, Ill on April 26, 1921 to John and Angeline (Burczyk) Nykiel. She finished her schooling in Chicago and on October 26, 1941 she married John Scripp. They continued living in Chicago where she started a first class Ladies Ready to Wear Shop which turned out to be a very successful business. In 1961, John and Millie and son, Johnnie moved to Colorado Springs, CO. There they operated a hot mix and gravel business until 1991 and moved to Lander. They built a beautiful home on Lander Hill and became a part of the community.

Survivors include her cousin, Joan Peters of Lander and several cousins in Chicago and North Carolina. Also by her best friend and care taker, Jeanne Lee and many other friends in Lander.

She was preceded in death by her son, Johnnie in 1995, husband, Jack in 1997 and sister, Adeline Herbert in 2010.

On-line condolences for the family may be made at theDavisFuneralHome.com. Services are under the direction of the Davis Funeral Home.