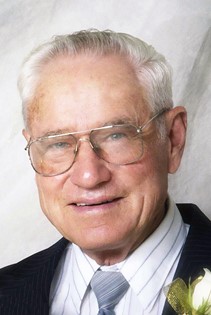 William DeVere Wright
Nov 3, 1928 - Oct 2, 2015
William DeVere Wright, 86, passed away Friday, October 2, 2015, in Great Falls, Montana.

A memorial service will be held Saturday, October 17, 2015 at 2:00 PM at Davis Funeral Home. The Riverton Elks Lodge will be conducting the service.

DeVere was born November 3, 1928 in Livingston, Montana to William A. and Icel Wright. He grew up in Mammoth, Wyoming and spent his formative years in Yellowstone Park. It was there, where he developed his passion for the great outdoors.

In 1950, he married Doris Loghry in Billings, Montana. They made their home and raised their three children in Riverton.

DeVere had a 42 year career with the RVEA as a lineman. He retired in 1990. In his retirement years, he became very active in the Riverton Elks Lodge.

DeVere is survived by his wife of 65 years, Doris of Great Falls, MT; brother Vernon (Mickey) Wright of Boise, ID. He is also survived by his daughter Debbie (Terry) Miller; son Bill (Jenna) Wright; grandsons, Matt (Hana) Miller, Marcus (Kate) Miller; and granddaughters, Katie (Curtis) Finnicum, Leah Wright; and seven great grandchildren.

He was preceded in death by his daughter, Dianne Wright, and his parents, William A. and Icel Wright.

In lieu of flowers, contributions in memory of DeVere may be given to: (Riverton Elks Lodge) WEST, needy youth fund or a local Hospice of your choice.

On-line condolences may be made to the family at www.TheDavisFuneralHome.com

Services under the direction of Davis Funeral Home.