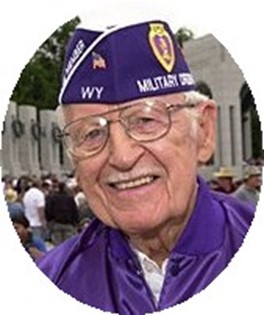 Robert G. Dornblaser
Jun 22, 1925 - Oct 4, 2015

Robert G. Dornblaser, 90, of Shoshoni, died at the VA Hospital in Cheyenne, WY on Sunday, October 4, 2015. Cremation has taken place. A memorial service will be held at a later date.

Robert G. Dornblaser was born on June 22, 1925 in Shoshoni, WY to Victor Glen and Edna (Edwards) Dornblaser. He grew up in Shoshoni and graduated from Shoshoni High School.

In September of 1943, he joined the U.S. Army and served during WWII in the New Guinea and Philippine Island and Leyte Campaigns. He earned a purple heart during his service. He was honorably discharged in April of 1945. He was honored to represent the state of Wyoming at the WWII Memorial dedication.

In 1949 he married Betty Dielman in Shoshoni. They were married over 15 years. He was a "Jack of All Trades" and worked for two years in Alaska on the Trans Continental Pipeline, drove heavy equipment and helped build Boysen Dam, owned and operated a barber shop, a sporting goods store, and the A&W in Lander and Shoshoni, which he built. He worked for the State of Wyoming as a Unit Supervisor for Job Training until his retirement.

He enjoyed fishing and hunting.

He is survived by his son, Monty Dornblaser of Lander, WY; and his daughters, Shelly Dornblaser of Riverton, WY and Sandy Sweet of Boise, ID and his six grandchildren and three great grandchildren.

He was preceded in death by his parents, Victor and Edna Dornblaser and his son, Bobby Dornblaser.

On-line condolences may be made to the family at www.TheDavisFuneralHome.com.

Services under the direction of Davis Funeral Home.