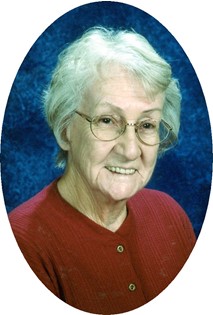 Dorothy Slagowski
Nov 28, 1924 - Oct 7, 2015
Funeral services for Dorothy M. Slagowski, 90, will be held at 10:00 a.m., Friday, October 16, 2015 at Davis Funeral Home. Interment will follow at Lakeview Cemetery in Shoshoni, Wyoming. A visitation will be held 9:00 a.m. until service time on Friday at the Davis Funeral Home.

Mrs. Slagowski passed away on Wednesday, October 7, 2015 at St. John's Living Center in Jackson, Wyoming.

She was born on November 28, 1924, in Mountain View, Wyoming, daughter of James G. and Janet (Miller) Robertson Megeath.

Dorothy graduated from Mountain View High School. On December 1, 1945, she married Eldred Jay Slagowski, Sr. in the Salt Lake City Temple in SLC, UT.

Mrs. Slagowski worked as a book keeper at Bridger Valley Electric, a bank teller at Unita Co St. Bank in Mountain View, and owned and operated Video USA in Evanston and later in Fort Collins, CO. Dorothy was also a long time foster grandma with Fremont County Schools in Shoshoni and Lander.

Mrs. Slagowski was a member of the Church of Jesus Christ of Latter-day Saints, serving in the Relief Society and as a Primary Teacher.

Dorothy enjoyed cooking, sewing, traveling, spending time with her family and friends, especially her grandchildren. She was very fond of visits and family outings with all her loved ones. She loved sports, especially watching the Denver Broncos.

Survivors include her son, Jay and his wife, Sandy Slagowski of Dubois; daughter, Danette Brouillette of Sand Point, Idaho; 5 grandchildren, Jesse, Amy, Travis, Chelsea and Trent.

Mrs. Slagowski was preceded in death by her parents, husband, Edred Slagowski; brothers, James, Felix, Clarence and William Megeath.

On-line condolences for the family may be made at theDavisFuneralHome.com. Services are under the direction of the Davis Funeral Home.