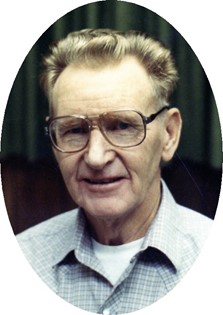 Walter Schmuck
Oct 7, 1926 - Oct 11, 2015

Walter Schmuck, 89, of Riverton, died on Sunday, October 11, 2015 at the Kindred Health Care- Wind River. A funeral service will be held at 10:00 am on Saturday, October 17, 2015, at Davis Funeral Home with Pastor Echo Klaproth officiating. Burial will follow at Mountain View Cemetery.



Walter Clarence Schmuck was born Oct. 07, 1926 on the family ranch near Orpha, WY to Charles and Viola (Parrot) Schmuck as the second youngest of seven children. The family moved to a homestead near Pavillion when he was 9 years old.



Walter attended Pavillion schools and graduated as the class valedictorian in 1944. After high school he enlisted in the Army and served in Okinawa as a military clerk typing discharge papers. After his discharge from the army he returned to the family farm and milked cows and farmed with his father until meeting his wife of 60 years in church. Winifred (Fett) and Walter were married in the Pavillion Church in 1955 and purchased their own farm on 8 Mile Rd in 1957 where they lived and raised their son and daughter until moving to town in 2007.



Walter farmed 145 acres and through the years held full-time jobs at Soil Conservation Service, the Union Carbide uranium mine, and Riverton Electric Association.



Walter was dedicated to his family life and enjoyed nothing more than spending time with his family. He avidly supported his children in 4-H, FFA (Father Farms Alone), and school activities. He also enjoyed the Wind River Mountains spending as much time as the farm would allow camping, fishing, or hunting above Dubois.



He was a lifetime member of the Methodist Church, a 60 year member of American Legion, a member of Grange, and a school board member during the Pavillion/Morton consolidation.



He is survived by his wife Winnie, daughter Becky and Mark Bappe, son Kevin and Dolly Schmuck, one granddaughter Bethany of Sheridan, WY and four grandsons Jeffery, Nathan, and Dontee of Riverton, a sister Ina Mae Harris and husband Gordon, and sister-in-law Dorothy Schmuck of Mackay, ID.



Walter was preceded in death by his sisters Velma Steenbock, Luella Hippe, Erma Brooks, Darlene Cooper and a brother, Marion Schmuck.



Memorial donations may be made in his name to the United Methodist church, Riverton, WY in care of Davis Funeral Home, 2203 West Main Street, Riverton, WY 82501.



On-line condolences may be made to the family at www.TheDavisFuneralHome.com.



Services under the direction of Davis Funeral Home.