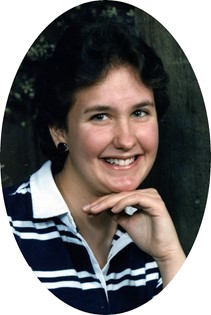 Alison D. Jahnke
Dec 8, 1967 - Nov 20, 2015
Alison Jahnke, 47, of Riverton, died on Friday, November 20, 2015, at Sage West Healthcare-Riverton. A viewing will be held on Friday, November 27, 2015, from 5:00 pm to 7:00 pm at Davis Funeral Home and again on Saturday, November 28, 2015, from 9:00 am to 10:00 am at the Church of Jesus Christ of Latter Day Saints in Riverton. A funeral service will follow the Saturday viewing at the Church of Jesus Christ of Latter Day Saints at 10:00 am with the Bishop Tom Mills officiating. Burial will follow at Mountain View Cemetery.

Alison Del Fitzsimonds was born on December 8, 1967 in Riverton, WY to Robert L. and Athly Oliva (Bodily) Fitzsimonds. She was raised in Riverton attending grade school through high school, graduating with the class of 1986 from Riverton High School.

She was a member of the Church of Jesus Christ of Latter Day Saints.

She married John Raymond Jahnke on June 5, 1997 in Riverton, WY. Together they were raising their four children.

She worked at C.E.S. (Community Entry Services) as a care giver.

Her family said that she loved her children, family gatherings, reading, trying new recipes, girls night out, and having her clients from work with her to enjoy life.

She is survived by her husband, John Jahnke; her sons, Alex Jahnke and Kolton Jahnke; her daughters, Kaitlyn Jahnke and Jonnie Jahnke; her dad, Marvin Thompson; her brothers, Kenneth Lee Sprouse, Tharon (Diane) Fitzsimonds, Mark (Marcia) Thompson, and Will (Kandi Talbott) Thompson; her sisters, Lorna (Travis) Clarke and Kathy Fitzsimonds-Johnson; her mother-in-law, Marcia Jahnke; her sister-in-law, Mary (Michael) Jahnke-Austin; her brother-in-law, Brian (Liz) Jahnke; her best friends, Becky Murray and Melisa Carrillo; and numerous nieces, and nephews.

She was preceded in death by her mother, Athly Thompson; her father, Robert L. Fritzsimonds; and her father-in-law, Wayne "Ike" Jahnke.

Memorials may be made to American Diabetic Association in care of Davis Funeral Home, 2203 West Main Street, Riverton, WY 82501. On-line condolences may be made to the family at www.TheDavisFuneralHome.com.

Services under the direction of Davis Funeral Home.