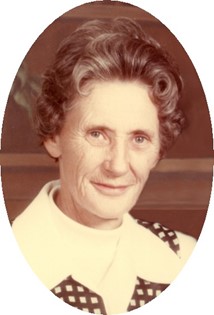 Violet Pickett
Nov 8, 1923 - Dec 6, 2015
Violet Pickett of the Missouri Valley area near Shoshoni died at the Help for Health Hospice Home on Sunday, December 6, 2015, at the age of 92. As where her wishes a memorial service will be held at Davis Funeral Home with her ashes buried beside her husband, Cecil Pickett, at Mountain View Cemetery.

Violet Ellen Larsen was born to David and Verna Larsen in New Raymer, CO on November 8, 1923. They moved to Oxford, NE where she grew up and attended school.

Violet married Cecil Pickett of Edison, NE on her birthday November 8, 1939. They lived and farmed in this area for a few years. Their home caught fire and burned down so they decided it was time to move to Wyoming. They moved to Morton, WY in June 1947, where Cecil had a job building the Wyoming Canal with the Bureau of Reclamation. Violet stayed home and took great care of her family. In 1958, they moved into Pavillion where she was able to work in the Post Office for many years and later on in the 1970's for Datel in Riverton.

Her family said she loved being a mom, playing cards, fishing in the mountains above Dubois, dancing at the Legion Club and visiting family. Mother's Day was a special day to her as her 5 children would take her to the Eagle's Club for breakfast and then spend the day with her traveling and reminiscing about their early days in the Pavillion/North Portal area. Her greatest thrill later in life was being with her grandchildren. She was even blessed to get to babysit two of her great, great grandchildren for many years. She really enjoyed getting to take many 5 generation pictures the last few years.

Violet and her husband attended the Pavillion Methodist Church and then the Riverton Methodist Church after building a home on Marlatt Road in the Missouri Valley area. They retired in 1981 and bought a winter home in Salome, AZ. They thoroughly enjoyed living in the Arizona desert during the winter months. Violet continued to travel South in the winter for many years after Cecil passed.

She is survived by three sons, Vaughn of Riverton, Edd of Missouri Valley, and Steve of Casper; one daughter, Sherry of Encampment; also her 13 grandchildren, 42 great grandchildren, and 10 great great grandchildren.

She was preceded in death by her husband, Cecil, on October 21, 1988; one son, Larry of Centralia, WA on March 28, 2012; and both her parents, one brother and one sister.

Memorials may be made to the Help for Health Hospice Home in care of Davis Funeral Home, 2203 West Main Street, Riverton, WY 82501.

On-line condolences may be made to the family at www.TheDavisFuneralHome.com.

Services provided by Davis Funeral Home.