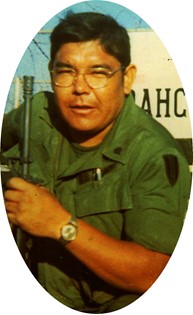 Virgil Behan, Sr.
Jan 2, 1945 - Dec 11, 2015

Virgil Behan, Sr., 70, of Arapahoe, WY, died at his home on Friday, December 11, 2015. A rosary will be recited on Sunday, December 13, 2015, at 7;00 pm at Great Plains Hall with the wake to follow. A funeral service will be at 10:00am on Monday, December 14, 2015, at Great Plains Hall. Burial will follow at the St. Stephen's Arapaho Catholic Cemetery.

Virgil James Behan was born on January 2, 1945 in Fort Washakie, WY to Bert Behan and Cecelia Annie (Norse) C'Bearing. He grew up in the Fort Washakie area with his siblings,

He served in the U.S. Army from 1970 through 1976 with the Paramedic 82nd Airborne Division. He was honorably discharged and returned to Wyoming.

He worked as an operator for Marathon oil for over 25 years before retiring in 2000.

He enjoyed hunting, fishing and Monday night football at the casino.

He is survived by his children, Virgil Behan, Jr., Elizabeth Hodge, Judy (Walter) Tidzump, Yolanda Bryan, Joel Behan, Michelle Moss, Freeman and Clara Blackburn, Nadine C'Bearing, Danielle C'Bearing, Fleurett and Aarron Brannon, Adrian C'Bearing, Stephanie Deshaw and husband, Eric Manalon, Rene Deshaw, Alex Waterman, and Paul Jay Waterman; and his siblings, Daniel C'Bearing, Sr., Julianna Deshaw, and Corrine Addison.

He is preceded in death by his mother, Annie C'Bearing; his father, Bert Behan; his sister and brother-in-law, Margarette and Joe Duran; his sisters, Kathleen Norse, Ina Waterman, Azalea Hanway, and Rosey Piper; his son, Leon Behan; his nephew, Daniel C'Bearing, Jr., and his brothers, Joe Waterman, Everette Monroe, Al Piper, Dan Piper, and Johnny Piper.

On-line condolences may be made to the family at www.TheDavisFuneralHome.com.

Services under the direction of Davis Funeral Home.