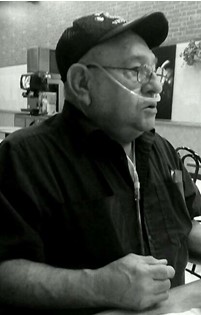 Antoine "Tony" Day
Dec 19, 1941 - Dec 12, 2015

Antoine "Tony" Day, 73, of Fort Washakie, WY died at his home on Saturday, December 12, 2015. A wake will be held at the family home at 17 South Fork Road in Fort Washakie on Wednesday, December 16, 2015, at 5:00 pm. A Traditional Native American funeral service will be at 10:00 am on Thursday, December 17, 2015, at the family home. Burial will follow with full military honors at the Sacajawea Cemetery in Fort Washakie.

Antoine Weed Day was born on December 19, 1941 in Fort Washakie, WY to Wilmer Weed and Madeline (Lawton) Day. He grew up in the Fort Washakie area and attended schools there.

He believed in the Creator and the Native American Traditions which he practiced.

He enlisted into the U.S. Marines in 1957 and served in the Viet Nam War. He made the military a career for twenty years before serving in the reserves for another ten years, retiring after thirty years with a honorable discharge.

On April 20, 1964 in Rigby, ID he married Clementine "Tina" Harris. Together they raised four children while moving with the military. They were married 51 years.

While in the service he was stationed in Viet Nam, Guantanamo Bay, and Okinawa, Japan. He was a Drill Sargent at Camp Pendleton in Ocean Side, CA before he retired in 1979. After retiring he returned to Wyoming where he worked for Shoshone Enterprises, owned Western Saddlery in Lander, and worked for "Chuck" at Melody Liquors.

He was a man of many talents, he was a gun smith, a leather craftsman, enjoyed doing carpentry and was always busy. He also played computer games and really liked them.

He is survived by his wife, Tina; his sons, Tony Day and his wife, Terrie and Antoine Baptiste Day and his wife, Victoria Barker; his daughters, Sheryl Renee Day-Skelton and her husband, Randy and Sharon Rebecca "Becky" Zaharioudakis and her husband, Mikey; his brother, David Day and his wife, Mary Jean; his grandchildren, Jeremy Day and his wife, Miranda, their children, Michael, Shayla, Jadia, and Jerrin, Josh Day and his wife, Tiffany, their children, Chelsey, Ryder, Pearson and Ean, Toni Day and husband, Dane, their children, Jason, Hope, Anthony, and Erin, Belva Anne "Shnanann" Day-Zaharioudakis, Aaron Cordell " Partner" Day-Zaharioudakis, Alexis Renee "Rose Bud" Zaharioudakis, Victoria Leigh VanRiper and husband, Andrew Vanich, their son, Carson Vanich, Joshua Ray VanRiper, Johnathan Jordan Perez, and Levi Justus Skelton; his step grandchildren, Holli Kelly and husband, Kris, April Martinez and her husband, Joseph, and Brandi Thompson and her husband, Phillip, and eight step great grandchildren.

He is preceded in death by his parents, Wilmer and Madeline Day, his grandparents, and several brother and sisters.

On-line condolences may be made to the family at www.TheDavisFuneralHome.com.

Services under the direction of Davis Funeral Home.