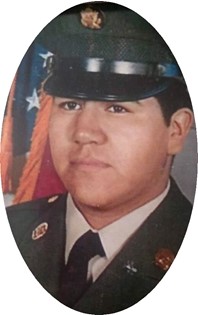 Leland Teran
Nov 4, 1952 - Dec 19, 2015

Leland Teran, 63, of Riverton, died at his home on Saturday, December 19, 2015. A viewing will be held on Tuesday, December 22, 2015, at Davis Funeral Home from 5:00 pm to 7:00 pm. Cremation will follow the viewing. A family service will be held on Tuesday, December 29, 2015, at Rocky Mountain Hall at 2:00 pm.

Leland Teran was born on November 4, 1952 in Fort Washakie, WY to Booker and Martha (Wesaw) Teran. He was raised in Fort Washakie and attended schools there. He was the valedictorian for this graduating class. After graduation he joined the armed forces.

He practiced the Traditional Native American Ways.

After discharge he returned to Fremont County where he worked for over 20 years with the B.I.A. Road Department and was also a firefighter.

He loved working with his hands and was always doing some sort of a craft or working on friends or anyone that needed their car fixed. He enjoyed fishing, camping, and spending time with his daughter, grandson, and his family.

He is survived by his daughter, Leanna Dawn Poll-Teran and his grandchildren, Aleena Dee Nagitsy, Devin Nagitsy, Madison Barnaby-Perry, and Ryal D. Koalece Poll; his sisters, Beatrice Haoukaas, Marva Haukaas, and Reba Jo Teran; his niece, Martha Teran; and his nephews, Tryon Keith Surell, Tyrel Teran, Dennis Teran, Patton Teran, Tylis Teran, and Sam Teran, and numerous other nieces, nephews, and grandchildren.

He was preceded in death by his wife, Elene Inez Goggles-Teran, his granddaughter, Esperanza "ESPI" Amor Teran, and his brothers, Floyd Leslie Teran, Julius Louis Teran, Edgar Paul Teran, Erwin Roy Teran, Dennis Lee Teran, Patton Jess Teran, and Tylis Teran.

On-line condolences may be made to the family at www.TheDavisFuneralHome.com.

Services under the direction of Davis Funeral Home.