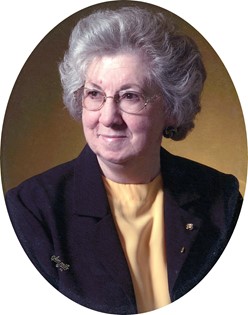 Florence Medlen
Jun 25, 1937 - Feb 7, 2016
Florence Medlen, 78, of Riverton, died on Sunday, February 7, 2016, at the Help for Health Hospice Home. A memorial service will be held at 2:00 pm on Saturday, February 13, 2016 at the First Assembly of God Church.

Florence Roselyn Locke was born on June 25, 1937 in Brawley, CA to William Paul and Marie (Jensen) Locke. Her family moved around while she was growing up so she experienced many different areas at a young age.

She was a member of the Assembly of God Church.

On September 2, 1955 she married Richard Eugene Medlen in Craig, CO. They had one son.

In 1974 the company that Richard worked for transferred him to Riverton. They made it their permanent home.

She collected angels and has over a 100 of them. She made her own clothing by sewing and also enjoyed making afghans for her grandchildren. She was one of the first to help if someone was in need. Above all eh loved her grandchildren.

She is survived by her husband of 60 years, Richard; her son Bill Medlen and his wife Frankie, of Upton, WY; grandchildren, Michael Atkin, Theresa Medlen, Shawn Medlen and Jill Medlen; siblings, Larry and Carolyn Locke of Casper, WY, Bettie Marcinkowski of Boise, ID, Dorothy Marsh of Springville, UT, Michelle Price of Longmont, CO, Bruce Locke of Greeley, CO, Sandra Hicken of Fort Collins, CO, Debbie Locke of Sierra Vista, AZ, and Valerie Locke of Sierra Vista, AZ; and her eight great grandchildren.

She was preceded in death by her parents, William and Marie Locke,

On-line condolences may be made to the family at www.TheDavisFuneralHome.com.

Memorials may be made to Richard Medlen in care of Davis Funeral Home, 2203 West Main Street, Riverton, WY 82501.

Services under the direction of Davis Funeral Home.