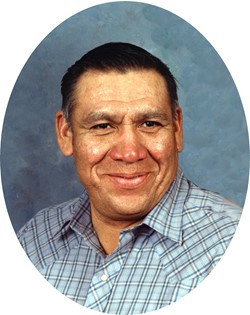 Reuben St. Clair
May 14, 1937 - Feb 24, 2016
Reuben St. Clair, 78, of Arapahoe died on Wednesday, February 24, 2016. A wake will be held on Sunday, February 28, 2016, at 6:00 pm at the family home, 949 17-Mile Road, Arapahoe. The funeral service will be on Monday, February 29, 2016, at 10:00 am at 949 17-Mile Road, Arapahoe. Burial will follow in the Spoonhunter Cemetery.

Reuben Earl St. Clair was born on May 14, 1937 in Fort Washakie, WY to Wallace and Winnie (Welch) St. Clair. He was given his Indian name of Be nee so Bctee translated to Big Heart. He grew up in the Fort Washakie area and attended grade school there. He went to Haskell Indian School in Lawrence, KS and he also attended Casper College where he became a Carpenter/Apprentice.

On March 13, 1962 he enlisted in the U.S. Army where he was a PFC and served until March 13, 1966 when he was honorably discharged.

He married Margaret M. Spoonhunter on December 11, 1964 in Lander, WY. They made their home in the Arapahoe area where they raised their family.

He worked various construction jobs throughout Wyoming, some of the areas were, Cheyenne, Laramie, Saratoga, Rock Springs, Lander, and Sheridan. He worked for the Bureau of Indian Affairs, the Eastern Shoshone Tribe and Wind River Housing.

He enjoyed reading, hunting, fishing, watching old Western movies and sports. He loved to attend his grandchildren's activities when he was still able to.

He is survived by his wife of 51 years, Marg St. Clair; son, White St. Clair, Sr; daughter-in-law, Mollie Trumbull; grandchildren, White St. Clair, Jr., Reuben James St. Clair, Cheyla Ann St. Clair, Joel Soaring Hawk St. Clair, and Zayden Trumbull; brothers, John R. St. Clair and William J. St. Clair; sisters, Velma Chavez, Lucille (Frank) Foote, Bernadette Oberly, Bonnie (John) Washakie, Violet (Leo) Lajeunnese, and Iva (Tex) LeClair; brothers-in-law, George Spoonhunter, Martin Spoonhunter, and Jeff Anderson; sisters-in-law, Agnes Logan, Dee Cuch, and Charleen Hoover; nieces and nephews, Jacob, Celia, Roy Logan, Reed Logan and children, Ransom and Jill Logan and children, Warren and Kayla Logan and children, Tom Logan and Paige Loveland and sons, Adam and Kortni Logan and girls, and James Logan and children; numerous nieces, nephews, and grandchildren.

He was preceded in death by his parents, Wallace and Winnie St. Clair; brothers, Stanford St. Clair, Wallace H. St. Clair, and Eli Hill; sisters, Harlene St. Clair and Leota Lajeunnese; father-in-law and mother-in-law, James and Marquerite Spoonhunter; brothers-in-law, Bob Spoonhunter, Ray Logan, John Oberly, Louis Chavez, and Theodore Spoonhunter; sisters-in-law, Marian Spoonhunter, Joan Spoonhunter, and Geraldine Spoonhunter; and granddaughter, Kai Leigh St. Clair.

On-line condolences may be made to the family at www.TheDavisFuneralHome.com.

Services under the direction of Davis Funeral Home.