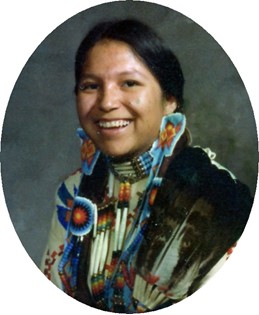 Reva SunRhodes
Aug 26, 1963 - Mar 9, 2016
Funeral services for Reva Kay SunRhodes, 52, will be held 10:00 a.m., Tuesday, March 15, 2016 at St. Stephens Catholic Church with Father Phil Wagner officiating. Interment will follow at the Arapaho Catholic Cemetery. A Rosary will be recited 7:00 p.m., Monday, March 14th at Great Plains Hall with a wake to follow.

Mrs. SunRhodes died on Wednesday, March 9, 2016.

She was born August 26, 1963 in Lander, Wyoming, daughter of Dwight M. and Estelle M. (Duran) SunRhodes. She graduated Wyoming Indian High School and graduated Bismarck United Tribes Technical College with her Associates of Science in Business.

She enjoyed going to the Casino, visiting with family, taking her grandkids to parks, reading books, helping others when she was able, she was an Eagle Woman that sat behind the drum.

She is survived by her daughters, Whitney SunRhodes, Darion SunRhodes, Estelle I. LittleThunder, Robin Behan, Ronda Behan, Kristina Behan, Delight Brown, Michelle, Brown, Adelia Jenkins, Kelly Jenkins, Delain SunRhodes, Tiffany SunRhodes, Diane Underwood, Erin Duran, Caroline Duran, Camille Monroe, Cassandra Goggles, Dee Wanstall, Jolene Addison, Andrea Addison, Lacy SunRhodes, Tony Tillman, Cherlynn Tillman, Emmaline Yellowfox, Kristy BigMedicine, Delight SunRhodes; Sons, Micheal L. SunRhodes, Ronnie Jenkins, Ward Spoonhunter, Raymond LittleThunder, Sr., Thunder S. LittleThunder, Sr., Clifton J. LittleThunder, Lil. Boy LittleThunder, Willow Pingree, Ricky Behan, Robert Behan, Rueben Behan, Damon James SunRhodes, Sr., Joseph Jenkins, Sr., Morry Joe SunRhodes, Craig Tillman, Tony Addison, Stacey MedicineTop; Sisters, Mary Ellen Pingree, Melissa C. LittleThunder, Vianna Behan, Theda Monroe, Rowena Monroe, Corine Wanstall, Trishanna SunRhodes, Eliza Moss, Becky Moss, Sandra Lucero, Natalie SunRhodes, Carol Piper, Beatrice Monroe, Julia LittleThunder, Morietta Duran, Valerie Bell, Priscella Bell, Sandra Bell; Brothers, Damon SunRhodes, Gaylen Littleshield, Verdale Duran, Forest Duran, Newell Duran, Claudio Duran, Shadow Duran, Lamar Duran, Tommy Ybarra, Norman Ybarra, Delmer Duran, Jr., Shane Duran, Dominic Duran, Forest Yellowfish, Eric Underwood, Darrell Moss, Charles Brown, Jr., Justin Brown, Benny Piper, Chris SunRhodes, Randy Duran, Virgil Monroe, Leo Monroe, Paul Bell, Jr., cheldon Bell, Sr. Alfred Duran, Sr.; Grandchildren, Anthony BigMedicine, Treyval BigMedicine, Shadow Eagle, Isaiah Eagle, Milo Sky LittleThunder, Raymond J. LittleThunder, Jr., Dale Eagle, Jr., Memphis Eagle, Dale Eagle III, Damon SunRhodes, Donomin SunRhodes, Dwight Moody Spoonhunter, Jr., Ryu Spoonhunter, Michael Lee SunRhodes, Jr., Joseph Jenkins, Jr., Wardina Wind, Kandace GhostBear, Ada GhostBear, Brandi LittleThunder, Moleni Eagle, Emerald Eagle, Shade BigMedicine, Shawntey BigMedicine, Georgina Spoonhunter, Uneak Spoonhunter; Uncles, Delmer Duran, Sr., Claud Duran, Micheal G. Duran, Paul Bell, Sr., Fredrick Herman; Aunts, Lorraine Duran, Joetta Brown, and Ida Monroe; and other relatives of the Rowens, Bells, and Antelopes.

She was preceded in death by daughters, Wardina Kay Spoonhunter, Shawna Marie SunRhodes; Son, Dwight Moody Spoonhunter, Sr.; Mother, Estelle Ida Duran; Father, Dwight Moody SunRhodes; Grandparents, Steven and Ida Duran.

On-line condolences for the family may be made at TheDavisFuneralHome.com.

Services are under the direction of the Davis Funeral Home.