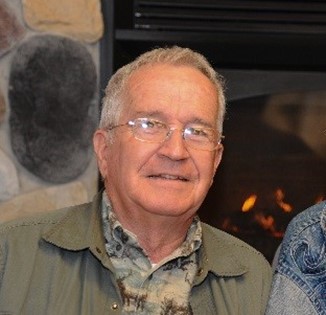 Robert "Bob" Baumann
May 9, 2016 - May 9, 2016
Robert "Trapper Bob" Baumann, 72, of rural Shoshoni, WY, passed away of complications from esophageal cancer, on Wednesday, May 4, 2016, at the home of his son, Chad, in Shoshoni. As per Bob's request, there will not be a funeral. He wanted a Party. Therefore, there will be a Celebration of his life on May 21 at the Shoshoni Senior Citizen's Center at 11:00am. Please don't wear black.

Bob was born in Milwaukee, Wisconsin on October 30, 1943 to Clarence "Mickey" and Celesta "Shorty" Enders Baumann. He grew up in Glenbeulah, WI and attended the Glenbeulah Grade School. He graduated from Elkhart Lake-Glenbeulah High School in the class of 1961. Bob then went on to college at the University of Wisconsin at Stevens Point, Wisconsin. He graduated with a degree in Resource Management.

In college he was a member of the Sigma Phi Epsilon Fraternity. Bob then joined the 410th Signal Construction Corps - Army Reserve Unit in Stevens Point, WI, in which he served for 6 years.

While attending college in Stevens Point, Bob met the former Elaine James and they were married on September 3, 1966, the one year anniversary of their first date. They were the parents of two children – Lori and Chad, and would have been married 50 years in September. They are the grandparents of two granddaughters – Alyssa Herbst and Deneva Taylor.

Bob started his career as a Hydrologist for the U.S. Geological Survey in 1968 in Merrill Wisconsin, until transferring to Riverton, WY in 1972, where they lived for 25 years before buying their retirement home on Copper Mountain in 1998. While he was working as a Hydrologist, he had the opportunity to travel to the Grand Canyon and take a raft on the rapids of the Colorado River, and visit Mount St. Helens after it erupted, to collect water samples. Bob retired in October of 1997 at the age of 53 and finally had time to pursue his many hobbies. On November 4, 1997 Elaine had a stroke that left her paralyzed on her left side. He was her care giver until the last couple months of his life.

Bob was an avid hunter, trapper, fisherman, gardener and genealogist. He set many World Records for Sauger and Brown Trout caught in Wyoming. His pride and joy was his ¼ acre garden growing several varieties of potatoes, shallots, onions and planning to have fresh corn-on-the-cob for his company during hunting season. Summers found him proudly displaying his produce at the Wednesday Fremont Local Foods Farmer's Market in downtown Riverton.

As a genealogy enthusiast, of almost 40 years, he published a book on his mother's family line (Enders), and was planning a Baumann book. His research took him to Germany to visit the homeland and tour the churches of his ancestors. He helped many people start their family history quest.

Bob was an Endowment Life Member of the National Rifle Association, a member of the Wyoming Trapper's Association, supported Ducks Unlimited for many years, and was a co-chairman of the Riverton Chapter of Ducks Unlimited Chapter for 4 years. Bob was also instrumental, along with Howard Johnson in organizing the Christmas tree project in Ocean Lake for fish habitat. Bob and Elaine also supported many other wildlife organizations and attended banquets for Friends of the NRA and the Rocky Mountain Elk Foundation. He was a board member for the Riverton Chapter of Sportsmen for Fish and Wildlife.

Bob loved nature and the wildlife on their mountain home and built over 75 Bluebird Nest Boxes and put them up at various sites on the mountain and they maintained for them for several years. He often told the story of watching a mountain lion walk by their house, within 10 feet of the living room window.

He served on the board for the Shoshoni Senior Citizen's Center.

Bob is survived by his wife, Elaine of Shoshoni, daughter Lori of Bailey, CO, son Chad and his wife, Kim and their daughter, Deneva Taylor of Shoshoni, and a granddaughter, Alyssa Herbst of Howell, MI He was extremely proud of his granddaughter Deneva, for her knowledge of hunting, and trapping.

He is further survived by his brother Richard (Janet) of Lander, nephew Steve (Debi) also of Lander, niece Kathy (Barry) Paulson of Helena, MT, and a sister, Jacqueline of Green Bay, Wisconsin, plus great- nephews Jacob (Meredith) of Amherst, OH, and Zachary Baumann of Lander, a great niece Amanda (Kris) Koessel of Billings, MT, and numerous other relatives.

He was preceded in death by his parents and grandparents and many ancestors he was researching.

In lieu of flowers, Bob requests you don't vote for Hillary . Bob can now be found at the Rainbow Bridge where he is being reunited with his Golden Retrievers, Chrissy, Marlo and Chelsea, Martha as well as feline friends, Wicca and Julius. If he's not there, he's doing first hand genealogy visiting with ancestors. Special thanks to Pam and Kim for seeing Bob through his final days.

Davis Funeral Home is assisting the family.