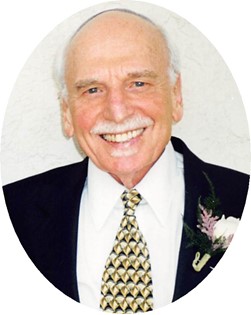 Seymour "Sy" Gordon
Dec 20, 1917 - May 29, 2016
Graveside services for Seymour "Sy" Gordon, 98, will be held 10:00 a.m., Wednesday, June 1, 2016 at Mount Hope Cemetery with Cantor Judd Grossman officiating. Wyoming Lodge #2 AF&AM and Popo Agie VFW Post #4799 honors will be held. In lieu of flowers, memorial contributions can be made to the Help for Health Hospice Home in care of Davis Funeral Home.

Mr. Gordon died on May 29, 2016 at Help for Health Hospice Home in Riverton, Wyoming.

He was born on December 20, 1917 in Brooklyn, NY, son of Joseph and Sadie (Rosenthal) Gordon.

Mr. Gordon served in the United States Army during World War II from September 1942 until he was honorably discharged in October of 1945. Sy toured for the Army Air Corps Band.

Sy was fluent in many instruments including the trombone, bass trumpet and baritone horn. He got his start with the Boy Scout band in Brooklyn, NY. He gained experience playing at resorts in the Catskill Mountains, burlesque shows, Barnum and Bailey Circuses, touring with South Pacific, and playing with the Jimmy Dorsey and Lester Lanin Bands. Sy was also able to play during the Brooklyn Dodgers games in the 1930's. He joyfully continued entertaining in several different bands while living in Arizona and locally during the Hot Notes Cool Nights at the Riverton City Park.

On December 24, 2000, he married Sally Matter in Mesa, Arizona. The couple moved to Riverton in April of 2014.

Survivors include his wife, Sally; daughter, Carol and her husband, Ron Smith of Lander; grandchildren, Kyle Kubaska, Kimberly Liss and Amie and her husband, Spencer Nielsen and 3 great grandchildren.

He was preceded in death by his parents and siblings.

On-line condolences for the family may be made at theDavisFuneralHome.com. Services are under the direction of the Davis Funeral Home.