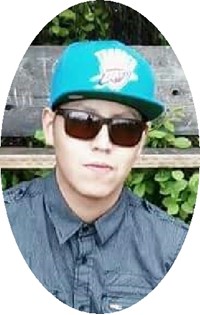 Terrance Antelope
Aug 12, 1993 - May 30, 2016
Funeral services for Terrance Michael Antelope, 22, will be held 10:00 a.m., Saturday, June 4, 2016 at St. Stephens Catholic Church with Father Phil Wagner officiating. Interment will follow at the Arapaho Catholic Cemetery. A Rosary will be recited 7:00 p.m., Friday, June 3rd at 403 Left Hand Spur Road with a wake to follow.

Mr. Antelope died on May 30, 2016 in Arapahoe, Wyoming.

He was born on August 12, 1993 in Riverton, Wyoming, son of Terrance White Antelope Edna Washington Antelope.

Terrance lived in Arapahoe his entire life and attended the Arapahoe Headstart and the Arapahoe School.

Mr. Antelope was of the Catholic faith.

His family said that Terrance liked playing video games, listening to music and playing basketball. He loved traveling, going for walks and being around his family, visiting and laughing. He enjoyed making people smile.

Survivors include his father, Terrance Antelope; brothers, Steven Antelope, Christopher McCarson, Brindin White and Jordan Barraza; sisters, Rosalyn Antelope, Andrea Antelope, Joeli CrazyThunder, Sheyann Stewart, Listy Catha, Bridgette Shangruex, Adrienne Dewey and Rose Dewey.

Mr. Antelope was preceded in death by his mother, Edna Antelope; brothers, Isiah Antelope, Javen TalksDifferent, Alvin "Shafter" TalksDifferent; grandparents, Lucille Dewey Washington and Otto Washington and Terrance's faithful companion, Paws.

On-line condolences for the family may be made at theDavisFuneralHome.com. Services are under the direction of the Davis Funeral Home.