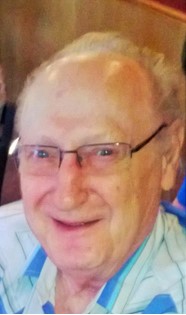 Forrest Sowards
Nov 6, 1931 - Jun 8, 2016
Forrest Wendell Sowards, 84, of Riverton, went to be with his beloved wife Eula on Wednesday, June 08, 2016, while at the Help for Health Hospice Home in Riverton. There are no services scheduled.

Forrest was born on November 6, 1931 in Williamsport, Ohio to Henry and Grace (Tootle) Sowards. He grew up, attended schools and graduated from high school in Williamsport.

After graduation he enlisted three separate times in the service and was honorably discharged in all three; He spent two years in the U.S. Marines, and returned home to Ohio. He then re-enlisted in the U.S. Marines and served another two years during the Korean War and then enlisted in the U.S. Air Force where he served four years.

He met his wife, Eula Mae Johnson, during his time in the service. They were married on August 16, 1952 while he was serving in the U.S. Air Force. They made their home in Circleville, Ohio where he was a police officer for a couple years. He then started work at Rockwell Standard in 1958 as a Carborizing Furnace Operator in Heath, Ohio, where he and his family moved to Hebron/Buckeye Lake, Ohio. He worked for Rockwell for 38 years. He remained in Ohio until 2005 when he moved west to Wyoming to be with his son and family.

He enjoyed collecting coins, keys, especially skeleton keys, and military patches.

He is survived by his son, Bruce Sowards and his wife, Gwen of Riverton; grandchildren, Tim Sowards of Ohio, Thor Sowards in Pittsburgh, PA, Kyle Sowards at Scott AFB in Illinois, Bret Sowards of Riverton, Cody Sowards of Riverton, and Scot Sowards of Riverton; great granddaughters, Angel and Aleera, and a great grandson Trevin; brother, Donald Lee Sowards and his wife, Helen of Florida, and numerous other relatives throughout Ohio.

He was preceded in death by his parents, Henry and Grace Sowards; wife, Eula Sowards; step-brother, Ernie Irvin; brother, Everett Sowards; and sister, Lillias Crabil.

On-line condolences may be made to the family at www.TheDavisFuneralHome.com.

Memorials may be made to St. Margaret's Catholic School in care of Davis Funeral Home, 2203 West Main Street, Riverton, WY 82501.

Arrangements under the direction of Davis Funeral Home.