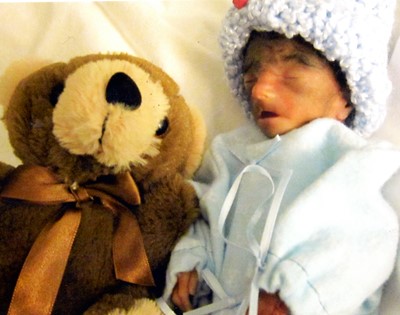 Jeremiah Behan SittingEagle
Jun 17, 2016 - Jun 17, 2016
Jeremiah Behan SittingEagle was born on June 2, 2016 at St. Lukes Presbyterian Hospital in Denver and later that day passed away. A rosary was recited on Thursday, June 9, 2016 and a graveside service was held on Friday, June 10, 2016 at the Tyler Cemetery.

He is survived by his parents, Nellie SittingEagle and Rueben Behan; sisters, Talisa SittingEagle, Alexis LittleThunder, Melissa, D.K. LittleThunder; brothers, George LittleThunder IV, Elijah Behan-SittingEagle. Isiah Behan; grandparents and great grandparents, Muriel C'Hair,, George SittingEagle, Sr., Vianna Behan, Roy Rergner, Yvonne Ames, Nancy Dice, Jesse Amos, and Evengalina C'Hair; and the families of Yellowman, Fletcher, C'Hair YellowFox, Loneman, Lee, Augustine, Bell, SittingEagle, Duran, Arthur, Jenkins, Brown, and Monroe.

He was preceded in death by his sister, Hazel SittingEagle LittleThunder; brother Frank SittingEagle, Jr.; grandparents, Robert J Spoonhunter, Arthur Yellowman, Orin Yellowman, Reva SunRhodes, Clarinda Behan, and Donna Jenkins; great grandparents, Louis C'Hair, Leonard Amos, June Yellowman, Everett Yellowman, Verna Loneman and Charles Loneman; great great grandparents, Frank and Nellie Amos, Anthony and Odila SittingEagle, Robert C'Hair, Sr., and Harry Behan; aunts, June Augustine, Wardina Spoonhunter, Lorretta SunRhodes, and Cherry LittleThunder; and uncles, Trinity Bell, Charles Augustine, and Dwight (Moody) Spoonhunter. Sr.

Arrangements are under the direction of the Davis Funeral Home.