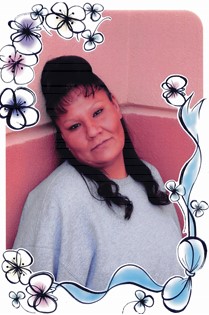 Stephanie Spoonhunter
Feb 17, 1983 - Jul 2, 2016
Funeral services for Stephanie Christine Spoonhunter, 33, will be held 10:00 a.m., Friday, July 8, 2016 at St. Stephens Catholic Church. Interment will follow at the Arapaho Catholic Cemetery. A Rosary will be recited at 8:00 p.m., Thursday, July 7th at #89 Gas Hills Road with a wake to follow.

Ms. Spoonhunter died on July 2, 2016 at the Wyoming Medical Center in Casper, WY.

Stephanie was born February 17, 1983 in Riverton, Wyoming, daughter of Al Stiffarm and Melody Spoonhunter. She was raised on the Wind River Reservation with her sisters, brothers and family. She attended schools at St. Stephens and Arapahoe.

Stephanie enjoyed life to the fullest. She loved animals and was know to take all strays home to care for them. She also enjoyed staying at home with her sons, going fishing and swimming and loved to laugh, joke and clown around. She gave and helped others, always from her heart. She was continuously there to lend a helping hand whenever possible. Stephanie also participated in Native American ways and ceremonies.

Ms. Spoonhunter is survived by her mother, Melody; sons, Nathan Yellowbear, Trevin Chippewa; sisters, Wanda Spoonhunter, Leslie SixToes, Ruby Goggles, Cherokee Brown and family, Jenice (Vinnie) Brown and Family, Darion and Daelynn SunRhodes, Chrystal LionShows, Katera Jenkins and family; brothers, Devin, Derick and Louis Meeks, Jr. and families, Joshua J. Big Medicine, Dante SixToes; Uncles, Darrell Lone Bear, David LoneBear, William J. LoneBear, Michael Blackburn, Wendall Ghostbear; Aunts, Charlotte Lone Dog, Violet LoneBear, Linda Munnell, Debra Jenkins, Rose Guerue, Becky Kuka, Theresa Williams, Felicia Whiteman, Arlene, Brenda, Liz Goodman, James and Darrell Rosenberger and family, extended family members from Montana and the Stiffarm families.

She was preceded in death by her father, Al Stiffarm, grandparents, William and Ione LoneBear, Johnny and Donna Goodman, Richard LoneDog, Camille and Carlos Goodman, Winterrose Jenkins, Taylor Harris, Derick Jay Meeks, Jr: and Teddy Raigosa.

On-line condolences may be made to the family at www.TheDavisFuneralHome.com

Services are under the direction of the Davis Funeral Home.