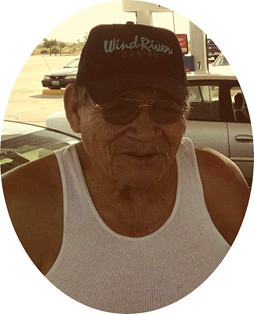 Reuben Jenkins Brown
Feb 13, 1944 - Aug 12, 2016
Funeral services Reuben Daniel Jenkins Brown, 72, will be held 10:00 a.m., Tuesday, August 16, 2016 at St. Stephens Catholic Church with Father Andrew Kinstetter officiating. Interment will follow at the Arapaho Catholic Cemetery. A Rosary will be recited 7:30 p.m., Monday, August 15th at Great Plains Hall with a wake to follow.

Mr. Brown died August 12, 2016 at the Hot Springs County Hospital in Thermopolis, Wyoming.

He was born February 13, 1944 in Fort Washakie, Wyoming, son of Joseph Asa and Myra Dorothy Jenkins Brown.

Reuben graduated from Flandreau Indian High School in South Dakota. He received his Associates Degree in Accounting from Northwest College in Powell, Wyoming.

Mr. Brown served in the United States Army during Vietnam before being Honorably Discharged.

Reuben married Lavonne "Bonnie" Baptst.

Mr. Brown worked at the Arapahoe Ranch and also as a CNA in various towns. He enjoyed spending time with his family, watching basketball games and was an avid Denver Broncos fan.

Survivors include his wife, Lavonne "Bonnie" Jenkins of Thermopolis, Wyoming; stepsons, Roger and Keith Bapst; step-daughter, Shelley Addison; brother, Wayne (Connie) Brown; sister, Frasi "Flossy" Brown, Evangeline "Eva" Mead, and Lydia Jenkins; nieces, Lou Oldman, Terry Teran, Ava Headley, Bernita Smith, Junie Friday, Luella Monroe, Polly Redfield, Mary Arthur, Rena Brown, Alvina Aragon, Pamela Sixfeathers, Myra Brown, Natalie Brown, Nicole Barraza, Tina Jenkins, Gwen C'Bearing and Katherine Eagle; nephews, Virgil Oldman, Steven Oldman, Sr., Curtis Oldman, Sr., Stevie C. Oldman, Sr., Al Addison, Sr., Chester Addison, Sr., Raymond Addison, Sr., Robert "Bob" C'Bearing, Sr., Al "Turtle" C'Bearing; grandchildren, Chantel Addison (Oscar Miramontes), Jessica Sinchetry (Slavic), Christopher, William and Levi Bapst, Mandy Reynolds, and numerous grandchildren from families of Brown, Oldman, Smith, Addison, Bell, Daney, Sixfeathers, Monroe, Jenkins, Teran and Redfield.

He was preceded in death by his sisters, Rosaline B. Addison, Maria L. Oldman, and Lavina Arthur; brothers, Howard, Herman, Alex and Royce Brown, Aloysius C'Bearing, Tommy Oldman, Sr., Jesse Oldman and Daniel Oldman, Sr.; nephews, Tater Oldman, Francis Addison, Sr., Howard Addison, Sr., TJ Addison, Marky Oldman, Joseph Brown, Jerry Brown, Larry Jr. Oldman, Donald and Larry Brown, Floyd Addison, Sr., Vidale C'Bearing, Sr.; nieces, Nellie Daney, Wilma Brown, Lavina Brown and Linda Coley and numerous grandchildren, Addison, Oldman, Bell, Killsontop, Brown, Arthur, Jenkins and Warren.

On-line condolences for the family may be made at theDavisFuneralHome.com. Services are under the direction of the Davis Funeral Home.