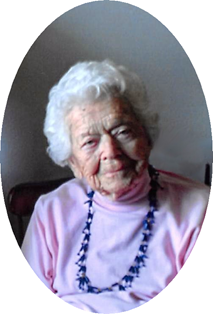 Helen Potts
Oct 2, 1911 - Sep 12, 2016
Helen Catherine Potts died Monday, September 12, 2016, at the Help for Health Hospice Home. Cremation has taken place and a memorial service will be announced at a later date.

Helen Catherine Wilson was born on October 2, 1911 in Albia, Iowa to Leo Albert and Bertha M. (Cease) Wilson. At the age of 8, she was sent to her Great Uncle Fred and Aunt Nannie Rees to be raised in Allen County Kansas.

She graduated from Iola High School in 1930 and Iola Teachers College in 1932. Her first teaching job was in a one room school in Geneva Kansas, where she taught and saved money for 2 years. After graduation from Kansas University, she moved to Baldwin Kansas to teach Home Economics at the High School.

On December 22, 1939 she married William "Bill" Virgil Potts, who was also a teacher. Their daughter Marilyn was born in 1944 and daughter Suzann in 1947. The family moved to Ft. Collins, Colorado in 1950 where they lived while Bill earned his Master's Degree. The family then moved to Oklahoma City, Oklahoma in 1951. She taught elementary education from 1954 until her retirement in 1973. She earned her Master's Degree in Education in 1958 from Central State College in Edmond, Oklahoma by studying on weekends and during the summers.

Following her husband's death in 1980, her focus became Volunteer Work. In her own words "Volunteering is a privilege and a responsibility". All of her involvements are too numerous to list, but were in every community she was a part of; Oklahoma City, OK, Greeley, CO, Casper, WY and Riverton, WY. Her volunteering always included, United Way, Education in the schools, United Methodist Women, Mission Support, Homeless Shelters, and she was a huge Champion of Equality.

Notable awards include numerous Volunteer of the Year Awards in all areas, Jefferson Award Finalist for Excellence in Public Service, Unsung Hero Award, Golden Rule Award, Five Who Care Award, Oklahoma City Above & Beyond Volunteer Award yearly from 1981 -1992, Olympic Torch Bearer for 1996 Atlanta Summer Olympics representing United Way of Greeley, CO, just to name a few.

Her greatest joy was her family and they cherished her in return.

She is survived by her daughter, Suzie Riter and husbanc, Red; granddaughter Cat Erhart and husband, Pat; grandson, Bill Riter and wife Lilly (Iden) ; great-grandsons, Nick Riter, Oliver Riter, and Finnegan Riter; great-granddaughters, Kay Snyder and Storm Wright; and niece Pamela Townsend-Wright and her two daughters.

She was preceded in death by her parents; brothers, George Wilson and William Wilson; sister, Louise Wilson Townsend; husband, Bill Potts; and daughter Marilyn Potts Guin.

Memorials may be made to the United Methodist Women or Help for Health Hospice in care of Davis Funeral Home, 2203 West Main Street, Riverton, WY 82501.

On-line condolences may be made to the family at www.TheDavisFuneralHome.com.

Arrangements under the direction of Davis Funeral Home.