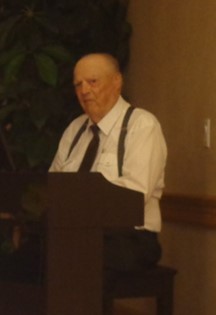 Ray Huenefeld
Aug 19, 1923 - Oct 13, 2016
Ray Samuel Huenefeld, age 93, of Riverton, Wyoming, passed away Thursday, October 13, 2016.



Memorial services for Ray will be held November 5, 2016 at 2:00 pm at the Davis Funeral Home in Riverton WY followed by a reception and fellowship at the Nazarene church located at 408 E Sunset in Riverton.



Ray was born on August 19, 1923 in Callaway, Nebraska. He began his schooling in Callaway, continued in the Burns/carpenter area, finally graduating from high school in Pavillion, Wyoming in 1942. After graduation Ray and his twin brother both enlisted in the service on November 11, 1942 where they had a brief moment of fame by having their enlistment photo published on the front page of several newspapers, not only in their home town, but across the west including Cheyenne, Wyoming and San Francisco, California. Ray spent his years in the Navy serving in the Pacific islands during WWII as an airplane mechanic and was discharged on 3-23-1946 and returned to his parent's home in Wyoming.

Ray continued his education through the GI Bill at the University of Wyoming graduating in 1951 with a degree in Mechanical engineering. He went to work for Phillips Petroleum in Texas and was later transferred to Bartlesville Oklahoma where he met the love of his life Mary Elizabeth Mann in a Sunday school class. They were married on June 12, 1954 and their marriage was blessed with six children, 2 sons and 4 daughters.



Ray and Mary moved to Riverton in 1969 and considered this their permanent home. He worked for Lucky Mac Mill in Gas Hills, WY for 10 years then retired to take up farming as a new hobby at his place on Riverview Road. He was a longstanding member of the Methodist Church and enjoyed the fellowship of the Pavillion Community church for many years preceding his death. He was a life time member of the VFW and served one year as the local Post Commander. He also was a longstanding member of the Oddfellows and helped serve many Pancake suppers to the community.



Ray was known in his community for his musical talent and his mechanical skills. He knew hundreds of songs by heart and loved to play in the community for special events and reunions. His family has many special memories of him playing special songs for them to sing or march to. He played piano for every church he attended at one time or another and had many stories to share. His mechanical skills were also very important to him and he never bought anything that he could make for himself. Some of the things that he built include a tractor complete with attachable implements, a boat that still floats to this day, a motor home made by combining an international metro milk truck with a Winnebago trailer that the family dubbed the "Interbago", several trailers, and a custom designed fifth wheel trailer home that he built while in his 70's. He and Mary traveled many miles with this trailer visiting their children and grandchildren until he was in his 90's. Given some iron and his welder he could make just about anything he needed.



Ray was preceded in death by his wife of 60 years Mary Elizabeth Mann Huenefeld, his parents Arno Fredrick Huenefeld and Verna Bell Martin Huenefeld, His older brother Clifford Huenefeld, and numerous aunts and uncles. He is survived by his brother Roy Huenefeld of Clermont, FL and his six children Amy Phillips of Sedro Wooley, WA, Bruce Huenefeld of Loveland, CO, John Huenefeld of Marysville WA, Nancy Adams of Thornton CO, Linda Adams of Riverton WY, and Janice Cotton of Everett, WA. He is also survived by 15 grandchildren and 7 great-grandchildren as well as numerous nieces and nephews, 2 sister-in-laws and a brother-in-law.



Memorial gifts may be given on his behalf to the Help for Health Hospice Home in Riverton in care of Davis Funeral Home, 2203 West Main Street, Riverton, WY 82501.



On-line condolences may be made to the family at www.TheDavisFuneralHome.com.

Services under the direction of Davis Funeral Home.