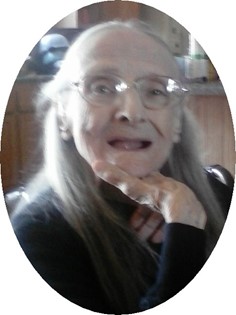 Gorine"Gordie" McLoud
May 16, 1929 - Jan 3, 2017
Gordine "Gordie" McLoud, 87, of Riverton, died at Sage West Riverton Hospital on Tuesday, January 3, 2017. A memorial service will be held in the Summer of 2017 in Spokane, WA. A memorial mass will be held at St. Margaret's Catholic Church in Riverton which will be scheduled at a later date.

Gordine Mae Lockwood was born on May 16, 1929 in Missoula, MT to Gordon and Ione (Mullen) Lockwood. She grew up in Missoula attending the House of Good Shepherd until 1947 when she moved to Our Lady of Lords where she lived and helped with their mission.

She was baptized into the Catholic faith and was a very devout member and was involved with many different aspects of the church.

On August 28, 1954 she married Desford Landess McLoud in Coeur 'd'Alene, ID.

She lived in Spokane WA the majority of her life until October 2015 when she moved to Riverton, WY to be with her granddaughter and family.

She suffered from Cerebral Palsy but still cleaned house and hotels, took care of children, sold Avon, and raised her granddaughter since she was 14 years old.

She enjoyed collecting Barbie Dolls, loved crochet beautiful afghans where her specialty was patterns with roses. Above all she loved being with her family which included great and great great grandchildren.

She is survived by her granddaughter, Christina Wright and her husband, Mike of Riverton; great grandchildren, Nicole Martin, Sierra Martin, Rob Martin, Cassandra (Mike) Adams and Jasmine Waddell; and great great grandchildren, Jeanie Martin, Riley Martin, Avery Lincoln, Binks Martin, William Martin, Ethan Adams, Baby Girl Adams due soon, and Caspyan Waddell.

Memorials may be made to St. Margaret's Catholic Church or Wounded Warriors in care of Davis Funeral Home, 2203 West Main Street, Riverton, WY 82501.

On-line condolences may be made to the family at www.TheDavisFuneralHome.com.

Arrangements under the direction of Davis Funeral Home.