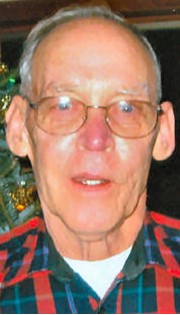 Patrick "Pat`` Joseph Griffin
Jan 10, 1933 - May 12, 2008
Former Riverton resident Patrick "Pat" J. Griffin, age 75, died on Monday, May 12, 2008, at his home in Hudson, Wis.

A Mass of Christian burial will be at 10 a.m. on Tuesday, May 20, at St. Margaret's Catholic Church in Riverton, with the Rev. Father Andrew Duncan officiating. Interment will be in Mountain View Cemetery in Riverton.

Friends may call from 4-6 p.m. on Thursday, May15, at the O'Connell Family Funeral Home in Hudson, Wis., and again on Monday, May 19, from 5-7 p.m. at Davis Funeral Home in Riverton.

There will be a Tuesday visitation starting at 9 a.m. until 9:45 a.m. at the Davis Funeral Home and a procession to St. Margaret's Catholic Church will follow.

Patrick Joseph Griffin was born in Ridgeville, Ind., on Jan. 10, 1933, to Harold and Elizabeth (Cummins) Griffin.

Mr. Griffin enlisted in the U.S. Navy on March 4, 1952, and served for four years. He was honorably discharged as a Korean War veteran. He also served in the Naval Reserves for over eight years.

On Sept. 27, 1975, he married Carol Lea Slabis.

Mr. Griffin is survived by his wife Carol; four sons, Shawn and his wife Shelly of Riverton Matthew of Palm Springs, Calif., Kevin and his wife Pamela of Puyallup, Wash., Dan and his wife Sherry of Cheyenne; two daughters, Pam Nicholls and her husband Don of Rawlins, and Sheila Hansen of Palm Springs, Calif.; nine grandchildren, Dustin and Derek Griffin, Abby and Tanner Nicholls, Joe, Cody and Jessica Hansen, Dane and Kylie Griffin; four great grandchildren; brother, Jack of Kauts, Ind.; brother-in-law, Richard Kraft; numerous other relatives and friends.

He was preceded in death by his first wife, Rena Rae (Sullivan) Griffin in 1973; his parents; and a sister, Mary Ellen.

Memorials may be made to Lakeview Hospice or the American Lung Association.

Online condolences may be expressed at www.oconnellfuneralhomes.com and on-line obituaries are available and condolences for the family may be made at: thedavisfuneralhome.com

Local services are under the direction of the Davis Funeral Home of Riverton.