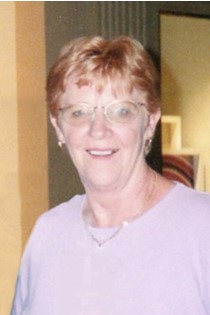 Janet "Jan" Secrist
Dec 23, 1943 - Mar 2, 2017
Janet "Jan" Secrist, 73, of Riverton died at Wind River Health Care and Rehabilitation. There will be a private service held at a later date.

Janet Arlene Rogers was born in Minter, CO to Ralph and Beulah (Rogers) Rogers. As a young child the family moved to Nebraska. She attended school in Chugwater, WY then moved back to LA Porte, CO where she graduated high school.

In September of 1961 she married James Henry Rutter and three children were born of this union, Laura Jean, Lesa June, and Lynette Jo. She then married Joseph A. Secrist on November 6, 1996 and was married for 17 years before he passed on January 26, 2014.

She has lived in Fort Collins, CO, Pavillion, WY, Thermopolis, WY and in Riverton, WY.

She and her first husband owned and ran Rutter's Roost in Pavillion for many years. She also worked at the Pavillion Post Office.

Janet and her husband, Joe, began their lives together as itinerant missionaries all over the United States filing in as temporary pastor, teaching, and working with children before moving back to Pavillion, WY where they ministered to the community in various capacities.

They moved to Thermopolis, WY in the fall of 2011 as a temporary pastor at the Roundtop Baptist Church and were later called to be the permanent pastor. Janet moved back to Riverton after Joe passed.

She enjoyed sewing, ministry to others and helping others. She was a beautiful person whom took care of others. She was a loving and caring person living live to its fullest.

She is survived by her daughters, Laura Toppenberg and husband, David, of Cheyenne, WY, Lesa Varnell and husband, J.D, of Grand Junction, CO, Lynette Arkins and husband, James, of Waconia, MN, and Monica Secrist of Riverton, WY; brothers, Hal Rogers and wife, Kathy, of Fort Collins, CO., and Carl Rogers and wife, Deb, of Cheyenne, WY; and her 10 grandchildren and 9 great grandchildren.

She was preceded in death by her husband, Joe Secrist; mother, Beulah Rogers whom just passed on 02/25/2017 and father, Ralph Rogers; step-sons, Sean Secrist and Matthew Secrist; great grandson, Koltyn Neale; and niece, Violet Rogers.

On-line condolences may be made to the family at www.TheDavisFuneralHome.com.

Memorials may be made to PAWS for Life in care of Davis Funeral Home, 2203 West Main Street, Riverton, WY 82501.

Arrangements under the direction of Davis Funeral Home.