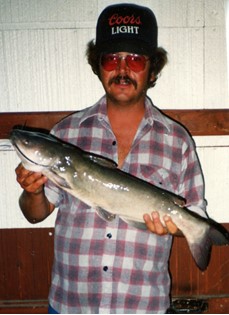 Keith A. Stephenson
Apr 16, 1960 - Mar 5, 2017




Keith Stephenson, 56, of Riverton, died on Sunday, March 5, 2017, at his home. A memorial service will be held at 10:00 am on Monday, March 20, 2017, at Davis Funeral Home. The family encourages those who come to wear camo.

Keith Stephenson was born on April 16, 1960 in Riverton to John B. and Raili (Ovaskainen) Stephenson. He grew up in Riverton and graduated from Riverton High School with the class of 1978. He was baptized in Riverton at the First Methodist Church.

He worked for the City of Riverton in the Parks & Recreation Department for 35 years, just recently retired. He was described as having a strong work ethic and a good sense of humor.

He was proud of and loved being from Riverton. He enjoyed traveling, fishing, hunting, camping, collecting guns, tying flies, being in the field, cooking wild game, making jerky and sausage and sharing it with his friends. He loved Black Powder Target Shooting and throwing the hawk and knife at the 1838 Rendezvous. His family said he especially enjoyed duck hunting in the early morning before the 1838 Mountain Man Rendezvous.

His son said he was great support for him during his hunting accident. Keith never left his side during his recovery. He said he will be greatly missed by his family and many friends. He was described as willing to help out anyone in need giving the shirt off his back.

He is survived by his daughter, Devonne Blake of Grand Junction, CO; son, Jarid Stephenson of Powell, WY; former spouse, Vickie Blake of Grand Junction, CO; good family friend, Alaminda Stagner of Grand Junction, CO; brother, Rick Stephenson; sister, Carol Stephenson of Colorado Springs, CO; and grandchildren, Zeah, Kodia, and River.

He was preceded in death by his parents, John and Raili Stephenson and granddaughter, Nova Rose.

Memorials may be made to the Riverton Skate Park in care of Davis Funeral Home, 2203 West Main Street, Riverton, WY 82501.

On-line condolences may be made to the family at www.TheDavisFuneralHome.com.

Services under the direction of Davis Funeral Home.