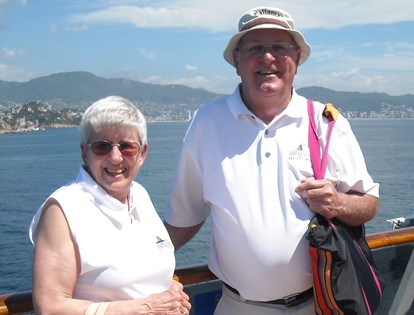 John "Wally" and Carole Shultz
Sep 12, 1935 - Mar 19, 2017

WALLY John "Wally" Shultz, 81 of Riverton died on Sunday, March 19, 2017, at the Help for Health Hospice Home. A Celebration of Life will be held on Saturday, April 1, 2017, at the Riverton Country Club from 2:00 pm to 4:00 pm.

John Wallace Shultz was born on September 12, 1935 in Scribner, NE to Ira Russell and Linda (Hinrichsen) Shultz. He spent his childhood in Rawlins, WY and graduated from Rawlins High School with the class of 1953.

After high school he entered the U.S. Army. He served in Stuttgart, Germany as an electrician until being honorably discharged in February of 1957.

He married his wife of 59 years, Carole Fae Sprague on August 17, 1957 in Oelwein, IA. He then attended Upper Iowa University where he earned his BA in History. As a freshman in college he was the first in the school's history to start for the varsity basketball team. He was an excellent athlete and after college he enjoyed participating in City League sports such as basketball and fast pitch softball with Service Supply in Riverton.

After graduation he and Carole moved back to Rawlins where he taught school and was a coach in the early 1960's. In 1965 he joined State Farm Insurance as a claims adjuster and moved his family to Casper, WY. After only two years there, the family moved to Riverton, WY where they built their forever home on Sherry Drive and raised their three sons, Kevin, David and Brian. Although he was offered promotions to Hawaii and Greeley, CO he and Carole chose to stay in Riverton to the delight of his family. He retired from State Farm in 1997.

He was a member of the Riverton Elks and past president of Riverton's Little League Board.

Wally was an avid golfer. He had two goals for his golf game: to shoot his age and to score a hole-in-one. He didn't manage to get an ace, but he did one better on his other goal by shooting a 79 at the age of 80. Wally also enjoyed hunting and fishing, riding ATV's, following his children and grandchildren's activities, traveling, and visiting casinos along the way. He loved visiting with friends and family and always made himself available to help others. Wally loved to follow University of Wyoming athletics and will be "Always a Cowboy."

Wally and Carole loved hosting the annual Bunny Classic Basketball Tournament in their driveway each Easter weekend. They started out small and it grew over 20 years to be an event that was looked forward to each year with great anticipation. It didn't matter if you were a player or a spectator, you couldn't help but have a great time when you saw that familiar smile of Wally's, who was the tournament's Commissioner.

He is survived by sons, Kevin and wife, Tami, David and wife, Janalyn, and Brian and wife, Tara; sister, Lila Walby; nine grandchildren and five great grandchildren.

He was preceded in death by his parents, wife Carole Fae, brothers Dick, Jim, and Kenny, and an infant sister.

On-line condolences may be made to the family at www.TheDavisFuneralHome.com.

Memorials may be made to Help for Health Hospice in care of Davis Funeral Home, 2203 West Main Street, Riverton, WY 82501.

Arrangements under the direction of Davis Funeral Home.



CAROLE Carole Fae Shultz, of Riverton WY, passed away Saturday, October 8, 2016, in Denver. Carole was surrounded by family, and cared for expertly at Saint Joseph's Hospital after 82 years as a beloved wife, mother, aunt, and grandmother.

Carole Fae Sprague was born on August 26, 1934 to Ralph Andre and Marian LaVelle (Kiefer) Sprague in Oelwein, IA where she spent her childhood. In high school, Carole sang in a local, all-female singing ensemble called The Four Teens, known for their lovely voices, tight harmonies, and always having fun! Carole and the women from The Four Teens had been great friends ever since.

Carole graduated high school in Oelwein in 1952, and after completing her 2-year teaching certificate at Coe College in Cedar Rapids, IA, she moved to Rawlins, WY to teach public school. There, she met the man who would be her husband of 59 years, John Shultz. John "Wally" and Carole married in 1957, making Carole the first school teacher in the state of Wyoming to wed while working in the school system.

The Shultzes settled in Riverton after a 2-year stint in Casper, with their three sons: Kevin, David, and Brian, all of whom grew up in Riverton. Carole and Wally lived in their home on Sherry Drive until their passing; it served as a home-base and cornerstone for all of their children and grandchildren throughout their lives.

Carole Fae enjoyed golfing—and even shot a hole-in-one on hole 2 at the Riverton Country Club! She loved playing card games, especially her weekly Bridge game with her friends and Blitz tournaments with her family. Carole avidly followed her grandchildren's sports and activities and loved to cheer on the University of Wyoming (GO POKES!) and the Iowa Hawkeyes. Year after year, holiday after holiday, she hosted family dinners and gatherings with style and poise. She loved to laugh, and anyone who knew Carole also knew the sound of her beautiful, boisterous laughter (comparable only to the laughter of her sister and best friend, Suzanne. Never have two sisters enjoyed one another's company so much). An eternal optimist and generous to her core, Ms. Carole was everyone's favorite caretaker, advisor, and cheerleader.

Carole is survived by her sons Kevin and wife Tami Shultz, David and wife Janalyn Shultz, and Brian and wife Tara Shultz; her younger sister Suzanne Bufton and brother-in-law M. Richard Bufton; and by several loving grandchildren and great-grandchildren.

She was preceded in death by her parents and her brother, Gailen.

A memorial service celebrating the life of Carole Shultz was held on Saturday, October 15, 2016 at the Riverton Country Club. Thank you to all who were able to attend. What a life worth celebrating!