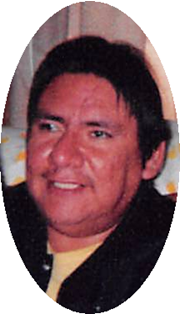 Ivan Bear
Jul 20, 1969 - Apr 28, 2017
Ivan Bear, 47, of Riverton, died at the Wyoming Medical Center in Casper, WY on Thursday, April 27, 2017. A wake will be held at 7:00 pm on Wednesday, May 3, 2017, at the Great Plains Hall. The funeral service will be at 10:00 am on Thursday, May 4, 2017, at St. Stephen's Catholic Church with interment at Arapaho Catholic Cemetery.

Ivan Jerry Bear was born on July 20, 1969 in Riverton, WY to Phillip and Mary Elizabeth (Lonebear) Bear. He grew up and spent his entire life on the Wind River Reservation, spending most of his time in Arapahoe. He was baptized into the Arapaho Baptist Church.

He was a member of the Native American Church. He also practiced the Native American Ceremonies. One of his greatest joys was helping his family with sweats.

He enjoyed being around his family, friends, spending time cruising around, listening to music, and cooking all types of meals.

He is survived by his daughters,Ivoreen Jerrilynn Bear of Riverton and Ivannah Jerrita Bear of Connecticut; brothers, Bryon YellowBear and families, Vincent YellowBear and families, Gaberial WhiteTail and families and Dewey Bear of North Dakota; sisters, Elizabeth FourBear and families, Kay YellowBear and families, Lorrina YellowBear and families, and Josita Bear of North Dakota; and extended families of Fort Belknap, MT, Brockies, Bucks and Nez Perce.

He is preceded in death by his parents, Phillip and Mary Bear; maternal grandparents, Andrew Brown, Sr. and Alta Tyler Brown and paternal grandparents, Jerry Bear and Ida Friday Bear.

On-line condolences may be made to the family at www.TheDavisFuneralHome.com.

Arrangements under the direction of Davis Funeral Home.