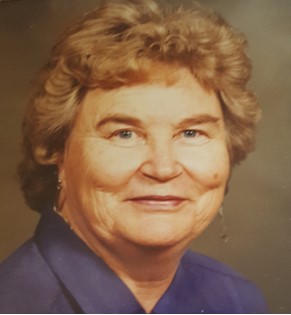 Florence Grubb
Apr 27, 1929 - May 3, 2017
Florence Grubb, 88, of Dubois, died on Wednesday, May 03, 2017, at Central Wyoming Hospice in Casper, WY. A memorial service will be held at 1:00 pm on Tuesday, May 23, 2017 at the Headwaters in Dubois, WY.

Florence Lucille Stevens was born on April 27, 1929 in Okreek, SD to Fred and Maude (Huntley) Stevens. She was one of 11 children. At the age of seven, the family moved to Dubois, WY so her father and three older brothers could work for the Wyoming Tie and Timber Company. She attended schools in Dubois graduating from Dubois High School with the class of 1946.

She was baptized into the Episcopal faith and was a member of St. Thomas Episcopal Church.

In 1941 while still in high school she met her husband, Robert Lloyd Grubb. He served three years in the Arm Air Corp during WWII after he was honorably discharged he came back to Dubois. On September 26, 1946 Florence and Robert were married in Riverton, WY at the home of the local Baptist minister. They chose to make Dubois their forever home and raise their three boys, Dan, Bob, and Fred.

She was a full time mother and at the same time she worked for the "Dubois Mercantile" now known as the Ramshorn Food Farm. She was one of the original five partners that started the Dubois Mercantile. She worked there for ten years before she sold her share to her son, Danny and he was the manager. She then went to work for Dr. Kucera in his Dubois clinic for five years.

She loved being a mother of three boys and everything it brought with it. She enjoyed being involved in her church and the many activities that were offered. She was also an avid bridge player and belonged to the local Bridge Club.

She is survived by her husband of 70 years, Robert Grubb of Dubois, WY; sons, Danny Grubb of Dubois, WY, Bob (Denise) Grubb of Casper, WY, and Fred Grubb of Coeur D'Alene, ID; brothers, Bob (Butch) Stevens of Saratoga, WY and Dick (Carol) Stevens of Hotchkiss, CO, sister-in-law, Fern Stevens of Riverton, WY; eight grandchildren and 13 great grandchildren.

She was preceded in death by her parents, Fred and Maude Stevens, seven brothers, and one sister. Memorials may be made to St. Thomas Episcopal Church in care of Davis Funeral Home, 2203 West Main Street, Riverton, WY 82501.

On-line condolences may be made to the family at www.TheDavisFuneralHome.com.

Services under the direction of Davis Funeral Home.