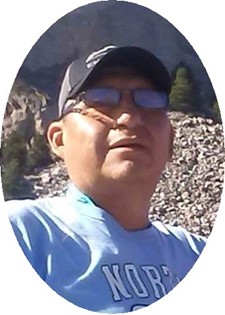 Marcus Gardner, Sr.
Oct 14, 1969 - Jul 1, 2017
Marcus S. Gardner, Sr., 47, of Arapahoe, Wyoming died Saturday, July 1, 2017 in Riverton. A rosary will be recited at 7:00 pm on Thursday, July 6, 2017, at St. Stephen's Catholic Church with wake to follow at 412 Left Hand Ditch Road. The funeral service will be at 10:00 am on Friday, July 7, 2017, at St. Stephen's Catholic Church with interment at Bushyhead Cemetery,

Marcus Stephen Gardner, Sr. was born on October 14, 1969 in Riverton, WY to Isaac and Margaret (Washington) Jenkins. He was given his Indian Name of "Rising Sun". He grew up in the Arapahoe area and attended schools at St. Stephen's. He lived his entire life on the Wind River Reservation.

He was baptized into the Catholic faith and attended St. Stephen's Catholic Church.

He was a journeyman electrician for Hoffman Electric in Riverton, WY. He also had worked at the Northern Arapaho Tribal Housing as a Laborer.

He enjoyed attending Pow wows, hanging out with family and friends, traveling, going on trips, spending time with his sons, daughter, and granddaughters.

He is survived by his best friend, Francinda Wallowingbull; sons, Marcus Gardner, Jr., Tristan Gardner, and Maurice Gardner; grandchildren, Aiyana Spoonhunter and Tehya Spoonhunter; brothers, Mitchell Stacey, James Gardner, Sr., and Arapaho Oldman; sisters, Serena Gardner, Tina Jenkins, Irene Jenkins, Katherine Jenkins, and Veronica Jenkins; aunt, Frances Dewey; uncle, John Bushyhead,Sr. and god parent, Melvin Littleshield; extended familes of Bushyheads, Jenkins, Goodmans, Littleshields, Fridays, Deweys, C'Bearings, Seminoles, Addisons, Wallowingbull, and Gardners.

He was preceded in death by his parents, Isaac and Margaret Jenkins; daughter, Marcinda Gardner; brother, Ernest "Baby Son" Jenkins; grandparents, James Joseph and Theresa Bushyhead, George Jenkins, and Clarice Smith; Godmother, Margaret Littleshield; and stepfather, Francis Washington; uncles, Joseph Bushyhead, Mervin Bushyhead, and Peter Bushyhead; cousins, Jolene Bushyhead and Michael Bushyhead; niece, Elyxis Gardner; nephew, Michael Stacy;

On-line condolences may be made to the family at www.TheDavisFuneralHome.com.

Service under the direction of Davis Funeral Home.