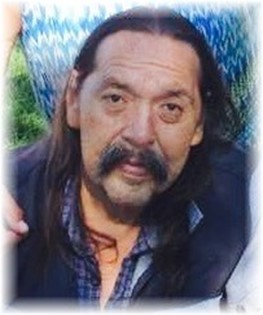 Steven Blackburn
Sep 29, 1962 - Aug 5, 2017
Steven Blackburn, 55, of Riverton, died on Saturday, August 5, 2107, at the Help for Health Hospice Home. A rosary and wake will be held at 7:00 pm on Tuesday, August 8, 2017, at 940 Rendezvous Road. The funeral will be at 10:00 am on Wednesday, August 9, 2017, at Davis Funeral Home.

Steven Wayne Blackburn was born on September 29, 1962 in Riverton, WY to Larry Griffe and Margaret Ann Blackburn. He was raised and attended schools on the Wind River Reservation. He never left the Wind River Reservation as it was his forever home.

He enjoyed reading, storytelling, loved going to the casino, in his younger days, riding horses, watching westerns movies, Star Trek movies, and wore out the movie Lonesome Dove. He loved to walk and exercise, but above all he loved spending time with the love of his life. Leilani Brown.

His family said his favorite saying was "I am a simple man".

He is survived by sons, Ricky Blackburn Jr., Kaden Johnson, Louis Whiteplume, Norman Wiilow Jr., Jonathan, Nicholas, Garrett, Gentry, Bronson, Edward (EJ), Roman, Hawk, Jamakee, Cody, Martin, Derrick, Juwan, Mika, Gary, Drew, Shane, Basil Blackburn, Jakota, TY, Sterling Wolfname, Alfonso (Cholo) Roman, Lorenzo Roman, Angel, Javier, & Valente Carrillo, Donovan & Dj Littleshield, Micheal Manderson, Devin Spoonhunter. Daughters: Jamay Blackburn, Courtney Blackburn, Josslynn Mills, Michelle, Billie Jo, And Jenny Blackburn, Lily St. Clair, Lonni Warren, Shelly Anderson (Robert), Desirae Willow, Marie Kane, Martisela Roman, Brooke Bentancourt, Dawn Buffalo, Javonn, Carmella, Rochelle (Lil Bit) Lynch, Hannah Blackburn, Jori Lamebull, Marsha Blackburn, Vanessa & Lisa Ferichs, Lindsey& Jayshawn Friday, Jamie Goodman. Uncles: Kenneth Blackburn Sr., Vincent Yelolowbear, William J. C'Hair, Dan Brown. Aunts: Joann, Patsy, Ruby Blackburn, Liz, Kay, Lorrina Yellowbear. Brothers: Ricky Blackburn Sr., Ronnie (RK) Kane, Glen Blackburn, Micheal Dale Blackburn, Martin Blackburn, Ryan Blackburn, Kenneth (KJ) Blackburn Jr., Micheal Frerichs, Freeman Blackburn. Sisters: Betty Jo Johnson, Melody (John) Blackburn-St.Clair, Sarah (Norman) Willow, Sandra Littlewhiteman (Jack), Melisa (Artuto) Carrillo, Sherry, Geraldine, Mona D, Hope, Robin, Crystal, Penny Blackburn, Romona Fererichs.

He was prececded in death by, Grandmother, Mary Lonebear/ Brown, Grandfather Basil Blackburn, Mother Margeret (Peggy) Blackburn, Father Larry Griffe, Aunt Lilian (John) Kane, Edward & Sherly Blackburn, Elizabeth Blackburn, Uncle Andrew James Blackburn, Companion Leilani Brown, Micheal D. Blackburn, Lucellia, Kim Blackburn, Skunner, PJ, Gary, Donovan, Dawayne Micheal III, Penny, Yvette Blackburn, Tiffany, Cami Warren, Gregory Seth Blackburn, and Perry Blackburn.

On-line condolences may be made to the family at www.TheDavisFuneralHome.com.

Services under the direction of Davis Funeral Home.