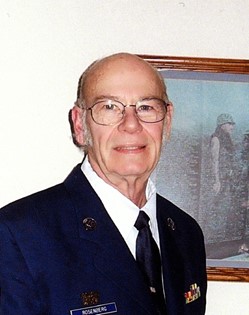 Melvin "Mel" Rosenberg
Sep 16, 1948 - Sep 17, 2017

Melvin "Mel" Rosenberg, 69, of Riverton passed away on Sunday, September 17, 2017. A memorial service will be held at 10:00 am on Friday, September 22, 2017, at Davis Funeral Home.

Melvin W. Rosenberg, Jr. was born on Thursday, September 16, 1948 in Springfield, MA to Melvin W. Rosenberg, Sr. and Pauline M. (Gzimalowski) Rosenberg. He grew up in Trenton, NJ and graduated from Hamilton High School.

He served in the U.S. Air force as a Munitions Specialist from 1968 – 1972.

On July 8, 1972 he married his wife of 45 years, Mary C. Wingert in Trenton, NJ. Two years later they move Wyoming and made it their forever home. They had two daughters, Christiana and Theresa.

When the family moved to Wyoming, Mel worked as an electrician for Western Nuclear in Jeffrey City, WY and Federal American Partners until 1981. In 1982 he went to work for Eaton Printer Products and worked through all their changes until 2007. He then became a computer technician at Riverton School District 25 retiring in 2013.

While living in Jeffrey City he was a volunteer fire fighter. Over the years he was involved in helping Kiwanis with their various activities, participated in the V.F.W. and the many veteran activities, and was involved in various church activities.

He enjoyed fishing, hunting, spending time at the family cabin near Dull Knife Reservoir in the Big Horns, and walking his dog. He loved to follow his grandchildren in all of their school events and sports activities.

He is survived by his wife, Mary Rosenberg of Riverton, WY; daughters, Christiana M. Gordon and her husband, Kevin of Riverton, WY and Theresa M. Lindley and husband, Nick of Tampa, FL; grandchildren, Matthew Gordon, Mattie Lindley, and Bella Lindley; mother, Pauline M. Rosenberg of Trenton, NJ; brothers, Mike (Ann) Wingert of Cheyenne, WY, Joe (Sandi) Wingert of Fairplay, CO, Bob (Kathy) Wingert of Windsor, CO, and Jim (Raedell) Wingert of Buena Vista, CO; sisters, Patty (Larry) Spiars of Manor, TX and Jann Wingert of Thermopolis, WY.

He was preceded in death by his father, Melvin W. Rosenberg, Sr.; sister Carol Sprague; parents- in-law, Earl and Dorothy Wingert; and brother-in-law, Ed Wingert.

Memorials may be made to DAV or Help for Health Hospice in care of Davis Funeral Home, 2203 West Main Street, Riverton, WY 82501.

On-line condolences may be made to the family at www.TheDavisFuneralHome.com Services are under the direction of Davis Funeral Home.