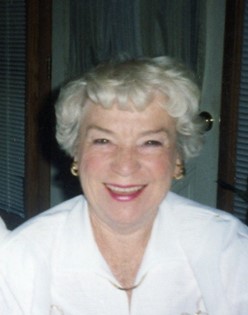 Eileen Nishwitz
Jun 19, 1924 - Nov 5, 2017
Grace "Eileen" Nishwitz, 93, of Dubois passed away on Sunday, November 5, 2017, at the Wind River Rehabilitation and Care Center, A memorial service will be held at 2:30 pm on Tuesday, November 14, 2017, at the Dennison Lodge in Dubois. As were her wishes, the service will be for her and her deceased husband, James Nishwitz whom passed away on January 12, 2007. They will be buried together at the Dubois Cemetery following the ceremony.

Grace Eileen Vogler was born on June 19, 1924 in Lockington, Ohio to William Lee and Abby Nettie (Hershey) Vogler. She grew up in Lockington with her brother and sister, attending grade school there. She attended Houston High School in Houston, OH, graduating with the class of 1942.

She was a member of the Methodist faith and was a longtime member when she lived in Lockington, OH.

On March 22, 1946 she married her high school sweetheart, James Wilford Nishwitz, in Piqua, Ohio. They shared over 60 years together before his passing. They had one child, Jerry "Mike" Nishwitz. The family lived in Piqua, OH before moving to Dubois, WY in 1963 where they made their forever home.

While in Piqua Eileen worked for Tikey Toys and then for Piqua Products. After moving to Dubois she and her husband became the owners and managers of the Trails End Motel.

She was a member of the Eastern Star, V.F.W. Auxiliary, and T.O.W. (Top of the World) homemakers all of Dubois.

She enjoyed going to Nevada, playing slots, playing bingo and dancing. She just loved to have fun.

She is survived by her son, Jerry "Mike" Nishwitz and his wife, Patti of Dubois; grandson, Scott Michael Nishwitz and his wife, Diane of Las Vegas; and great grandchildren, Andrew, Ethan, and Daniel Nishwitz.

She was preceded in death by her husband, James; parents, William and Abby Vogler; sister, Wilda Vogler and brother, Jerry Vogler. The family ask that in lieu of flowers, memorials may be made to the High Country Senior Center of Dubois in care of Davis Funeral Home, 2203 West Main Street, Riverton, WY 82501.

On-line condolences may be made to the family at www.TheDavisFuneralHome.com.

Services under the direction of Davis Funeral Home.