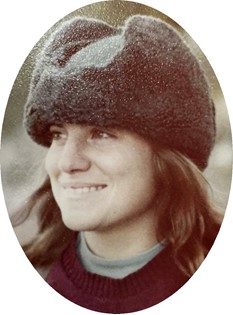 Debra Ann Hitchcock
Apr 25, 1955 - Nov 20, 2017
Debra Ann Hitchcock,,62, of Dubois, Wyoming died Saturday, November 18, 2017 at the Warm Valley Lodge in Dubois. Cremation has taken place. A memorial service will be held at 2:00 pm on Sunday, November 26, 2017 at the Warm Valley Lodge with Reverend Melinda Bobo officiating.

Debra was born April 25, 1955 in Philadelphia, Pennsylvania to Arnold and Louise (Capaldi) Halse. She was raised in the Catholic faith. Debra's father was in the U.S. Navy. She grew up in many communities including Hawaii, Virginia Beach, and Springfield, Virginia.

She married Robert L. Hitchcock on December 8, 1979 in Springfield, Virginia. Together they had one son, Ian Hitchcock. Debra and Robert move to Dubois in 1980 to work for the Forest Service. In 1982 they moved to Alaska and moved back to Dubois in 1988.

Her family said she loved the natural world and everything wild about it. She sought to live close to the wilderness despite any hardships.

She loved hiking, cross-country skiing, dogs, and coffee.

She is survived by her husband Robert Hitchcock of Dubois, Wyoming; son, Ian Hitchcock of Williston, VT; her mother, Louise Halse of Jacksonville, FL; brother, Arnold "Corky" Halse and wife Kathy of Manassas, VA; nephews, Shawn, Shane and Matthew Halse; and uncle Skip Capaldi of Jacksonville, FL.

She was preceded in death by her Father, Arnold Halse.

Memorials may be made to St. Thomas Episcopal Church care of Davis Funeral Home, 2203 West Main Street, Riverton, WY 82501.

On-line condolences may be made to the family at www.TheDavisFuneralHome.com.

Arrangements are under the direction of Davis Funeral Home and Crematory of Riverton.