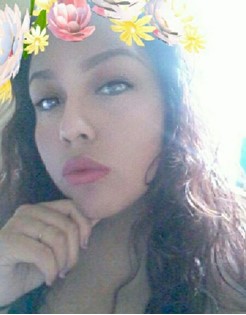 Erin Lujan
Nov 8, 2001 - Nov 20, 2017


Erin "E-Town" Lujan, 16, of Riverton passed away on Monday, November 20, 2017. A viewing and memorial service will be held from 7:00 pm to 8:00 pm on Saturday, November 25, 2017, at Davis Funeral Home. A wake will be at Great Plains Hall on Sunday, November 26, 2017, at 7:00 pm. A graveside service will be held at 2:00 pm on Monday, November 27, 2017, at Arapaho Catholic Cemetery.

Erin Christine Louise Lujan was born on November 8, 2001 in Riverton, WY to Aaron Condeladdeo Lujan and Christine Rose Posey. She was raised in Riverton and attended Riverton High School. She was a hard worker in school and told family that she wanted to be a Marine Biologist.

She was baptized into the Christian Faith and believed in prayer. She followed the Native American ways of life.

She was involved in the Native American Indian Club at the high school. She was preparing herself to go out for the school basketball team.

She loved spending time with family, music, cats, joking with the family, and making them laugh. Her number "1" thing was food and she always told everyone "Don't nobody touch my food". She also took care of her father who is wheelchair bound and loved doing it.

She is survived by her father, Aaron Lujan; grandparents, Janice R. Lujan-Saunders, Clarence H. Saunders, Jr, Ruby Posey, Shirley Lujan, Ivan Posey, and Nick Lujan; brothers, Michael Appeney, Alijah James Lujan, Beaushawn Lujan, Hunter Chase Lujan, and extended brothers; sisters, Devlynn Appeney, DeNolia LaRae Lujan, Torri Lynn Cowboy, Saraka, Aleca, Jamie, Gardner and extended sisters; uncles, Adam Lujan, George Lujan, Jr., Norberto Botello, John Lujan, III, Jacob Lujan, Dennis Posey, Alex Posey, William Posey, and Justin Revere; and aunties, Susan Lujan, Agnes Lujan-Botello, and Jenny Lujan.

She was preceded in death by her mother, Christine Posey; grandfather, Howard George Lujan, Sr., grandparents, Anita Goggles and Michael Posey, Jr., great grandfather, John Lujan, Sr.; great grandmother, Louise Lujan; great uncle, John Lujan, Jr.; uncles, Michael and Tony Posey; Blaine revere; and many others and extended.

On-line condolences may be made to the family at www.TheDavisFuneralHome.com.

Services under the direction of Davis Funeral Home.