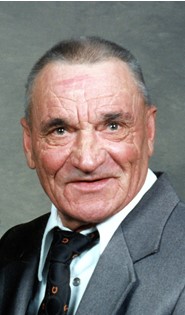 Delbert "Joe" Werbelow
Feb 16, 1929 - Nov 29, 2017
Delbert "Joe" Werbelow, 88, of Emblem passed away peacefully of natural causes at Wind River Rehabilitation and Care Center on Wednesday, November 29, 2017, with his wife and family by his side. A private celebration in memory of his life will be held in February.

Delbert Raymond Werbelow was born on February 16, 1929 in Emblem, WY to Martin Henry and Ella Louise (Blank) Werbelow. He was raised in Emblem on the family farm with his six brothers and seven sisters and attended school in Emblem.

He was baptized into the Lutheran Faith and attended the Zion Lutheran Church in Emblem, WY.

On June 1, 1971 he married Gloria "Peggy" Cerkan in Evanston, WY.

He worked on the family farm and eventually owned his own farm and ranch with his brother that he worked on until he was in his mid-seventies. He then moved to Basin for three years before moving to Riverton fourteen months ago.

His loved his family and animals above all else but also enjoyed hunting and fishing. He was noted for his gardening along with a good cigar. He also loved his gambling trips.

He will never be forgotten. He will always remain etched into the hearts of his love ones.

He is survived by his wife of 46 years, Peggy Werbelow of Riverton, WY; daughter, Jenny Werbelow and husband John, of Riverton, WY; sons, Jim Justice and wife, Betty of Greybull, Jon Cerkan and wife, Merlyn of Naselle, WA; and Jody Cerkan of Greybull, WY;; two brothers and three sisters; numerous nieces and nephews; eight grandchildren and twenty-three great grandchildren.

He was preceded in death by his parents: two grandchildren; four brothers and four sisters.

Memorials may be made to Zion Lutheran Church of Emblem, WY in care of Davis Funeral Home, 2203 West Main Street, Riverton, WY 82501.

On-line condolences may be made to the family at www.TheDavisFuneralHome.com.

Arrangements under the direction of Davis Funeral Home.