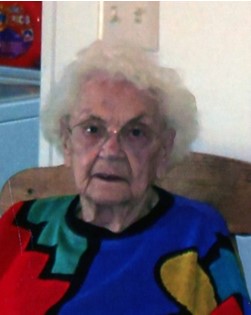 Leah Morgart
Nov 22, 1921 - Dec 1, 2017
Leah Morgart, 96, of Shoshoni passed away on Friday, December 1, 2017, at the Wyoming Medical Center in Casper. A rosary will be recited at 7:00 pm on Wednesday, December 6, 2017, at Davis Funeral Home. The funeral will be held at 10:00 am on Thursday, December 7, 2017, at St. Margaret's Catholic Church with interment following at Mountain View Cemetery. A reception will be held at 2:30 pm at the Shoshoni Senior Center at 214 East 2nd Street,

Leah Jeanette Morgart was born on November 22, 1921 in Story, WY to Milton Herbert and Alice Marie (Snell) Eychaner. She grew up in Story Wyoming with her four brothers and one sister. She graduated from the Alliance Nebraska High School with the class of 1940.

She was baptized into the Catholic faith and was a member of the Shoshoni Catholic Church, where she was the organist.

On February 24, 1949 she married Wayne Morgart, Sr. In 1950 they moved to Gillette, WY until 1962 when they moved to Moneta. After about four years there, in 1966, they moved their family to Shoshoni, WY where she lived until 2003. She lived in Evanston until 2013 when she returned to Shoshoni where she lived until her passing.

After moving to Shoshoni, she opened up "Leah's Café". In 1974 she went to work at the Riverton Hospital as a Ward Clerk until she retired. After retirement she worked a short time at Wind River Health Care and Rehabilitation. She also cared for the Starwalt family through Home Health Care.

She loved her grandchildren and spending time with them. She enjoyed gardening, piano, organ, baking, cooking, and traveling to visit her children. She was active in the Shoshoni Chamber.

She is survived by her sons, Wayne Morgart and Richard (Kerina) Morgart; daughters, Mary Boecken and Cherri (Keith) Clinton; sister, Dolly Reno; eight grandchildren, numerous great grandchildren, and numerous nieces and nephews.

She was preceded in death by her parents; husband, Wayne Morgart; son, Melvin Morgart; and brothers, Bob Eychaner, Jim Eychaner, Milton Eychaner, Jr., and Johnny Eychaner.

On-line condolences may be made to the family at www.TheDavisFuneralHome.com. Memorials may be made to Wounded Warriors in care of Davis Funeral Home, 2203 West Main Street, Riverton, WY 82501.

Services under the direction of Davis Funeral Home.