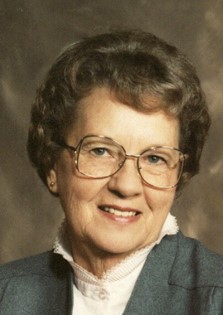 Maxine L. Luoma
Jun 11, 1920 - Jun 9, 2008
Maxine L. Luoma of Pavillion died Monday afternoon, June 9, 2008 at Riverton Memorial Hospital. She was 87 years old.

Funeral services will be conducted at 2:00 p.m. on Wednesday, June 11, 2008 at Davis Funeral Home, with the Rev. Don Schlichting of the United Methodist Church officiating. Burial will follow at Mountain View Cemetery.

A viewing will be held one hour prior to the service.

Maxine L. Loosemore was born October 2, 1920 Blendon Towhship, Michigan, MI, the daughter of Richard and Julia (Parm) Loosemore. She moved to Lysite at a young age with her family, and grew up there. She attended school in a one-room school house at Bridger Creek in the Lysite area.

On July 17, 1939 she married Jack Luoma, Sr. in Casper, Wyoming. The couple lived in Lysite where they were ranchers. They moved to Worland and in the late 1950's to Pavillion, where Mr. Luoma was employed by the county.

She was a homemaker and a part time clerk at the Pavillion Post Office.

Her family said Mrs. Luoma enjoyed gardening—vegetables and flowers—caring for her yard and rock hunting with her husband.

Among her survivors are a son Bob Luoma and his wife Cathy of Riverton; a daughter Marion Smith of Kinnear; sisters Evelyn Hanlin of Dubois and Elsa Hughes of Colorado; nine grandchildren; 19 great grandchildren; and two great great grandchildren.

Mrs. Luoma was preceded in death by her husband, Jack Luoma, Sr.; her parents; a son Jack Luoma, Jr.; brother Lester Loosemore; and sister Julia Bell Twidale.

Memorial donations may be made to Little Wind Hospice care of Davis Funeral Home, 2203 W. Main Street, Riverton, WY 82501.

On-line obituaries are available and condolences for the family may be made at: thedavisfuneralhome.com

Services are under the direction of the Davis Funeral Home of Riverton.